Discover more from The Trip Report by Beckley Waves
on the business, policy and science of psychedelics
Over 5,000 subscribers
Canada Approves Compassionate Use & other Policy Updates; Mindleap's Digital Platform; Bioethics & Drug Synthesis update
Policy Updates
Compassionate Use Milestone
Yesterday the psychedelic world awaited with bated breath the announcement from Canadian Health Minister Patty Haidju's office whether a petition for compassionate use of psilocybin would be granted.
"Four Canadians battling incurable cancer have been approved by the Minister of Health, Patty Hajdu, to use psilocybin therapy in the treatment of their end-of-life distress. These 4 patients mark the first publicly-known individuals to receive a legal exemption from the Canadian Drugs and Substances Act to access psychedelic therapy, and the first known patients to legally use psilocybin since the compound became illegal in Canada in 1974. The decision comes after over 100 days of waiting for a response."
TheraPsil, the non-profit founded by Canadian Psychotherapist Dr. Bruce Tobin, has been working for years for this exemption. This backgrounder on Therpsil is essential reading for anyone wanting to understand the efforts required and setbacks endured, which lead to this decision.
The other Canadian movement gaining steam is the DecriminalizeNature Canada's petition to the House of Commons to decriminalize entheogenic plant medicine.
We'll be keen to follow this development as the hope is that this is only the beginning of more appropriate consideration of plant medicines.
Decriminalize Nature DC
Today we are also waiting for policy news out of Washington, DC:
"This Wednesday, Decriminalize Nature DC expects the DC Board of Elections to announce that Initiative 81, the "Entheogenic Plant and Fungus Policy Act of 2020," is certified for ballot access."
If I am not mistaken, this would be the second psychedelic related ballot initiative that voters will have a chance to consider in November. The other being Oregon's Psilocybin Services Initiative, IP-34.
There is also Oregon's IP-44, which "removes criminal penalties for small amounts of personal possession of drugs and connects people with drug treatment and recovery services.
UK Home Office Shoots Down Psilocybin Rescheduling
We're gutted about news from across the pond:
"In responding to a new report recommending that psilocybin (the active ingredient in magic mushrooms) should be moved from Schedule 1 to Schedule 2 of the Misuse of Drugs Regulations (2001) to facilitate medical research & development, the Home Office spokesperson said the current classification of psilocybin under Schedule 1 does not prevent research or clinical trials."
However, we have the sense this is just the first go at reform and the folks at Drug Science are keen to keep up the fight: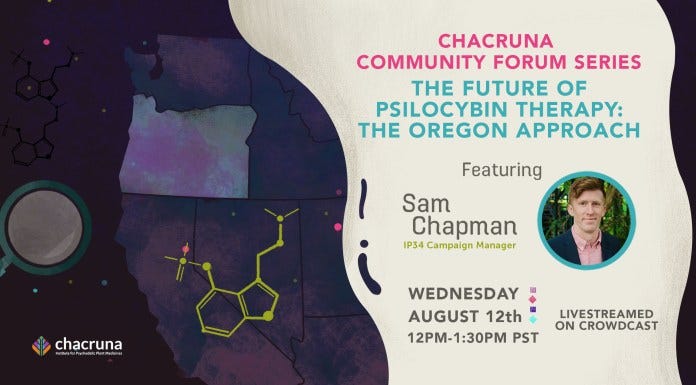 Business: Digital Health & Psychedelic Therapy
A topic we're fascinated to follow and understand is the role that technology will play in psychedelic therapy.
I am confident that the series Software Assisted Psychedelic Assisted Psychotherapy, currently on 3/n, will be one that could eventually spin off into its own niche.
Relatedly, Mindleap, the Mydecine subsidiary, announced that it is adding three programs to its platform:
"The new offerings will include comprehensive addiction, psychedelic integration, and holistic wellness programs designed to empower users to improve their wellbeing. The ability to track progress, encourage consistency through gamification will provide additional value to Mindleap users."
The tradeoffs for using technology in psychedelic therapy are going to be a delicate balance between enabling access (by lowering costs) and ensuring privacy.
The timing of psychedelic policy and science advances coincides with the rising development and integration of Digital Therapeutics. This certainly adds flavor and complexity to conversations about ethics, parity, and access that traditional/indigenous systems and earlier psychedelic research did not have to consider. It will be fascinating to watch it roll out.
Recently the FDA has allowed some leniency with regards to their position on Digital Therapeutics, in light of the COVID Pandemic, basically allowing a few companies to offer products before FDA approval.
I am digging into this area a bit more to understand it better. Still, the first question is: could be an opportunity for Mindleap, Introspect, and the other digital health tools in development by psychedelic companies to enter the healthcare market (and not just the consumer market) before clinical trials on associated psychedelic protocols are completed?
Keep in mind this is a bit of speculation on my part and simply "wondering out loud."
Regardless, this corner of the psychedelic expansion will be captivating to follow.
TTR was born out of a deep curiosity and wonder about the future of how psychedelics would interface with the healthcare system and political landscape. One key area, with no simple answers (and no simple questions either), is that of ethics. Eddie Jacobs is embarking on a program to map out these questions and offer solutions in his upcoming Ph.D. program at Oxford.
MAPS Canada hosted a Q&A with Eddie that TTR readers will find useful.
"Against the backdrop of regular healthcare, the experience of psychedelic psychotherapy, its mechanisms of action, and its downstream consequences, are all pretty unusual. So it's not surprising that it seems to throw a curveball at almost every principle or tenet of medical ethics…

Suppose we forge ahead without deep, critical ethical engagement, and we overlook something that we could have fixed, that leaves patients feeling let down, violated, or otherwise not properly considered. Not only would that amount to a failure of a physician's duty of care, it would cost the psychedelic psychotherapy movement itself: maybe the loss of the public goodwill that has been so hard to build, maybe a series of litigation actions that make treatment providers, insurers, and decision-makers in other jurisdictions considerably less enthusiastic about facilitating psychedelic psychotherapy, ultimately meaning that many other people who could benefit would miss out."
An English chap that employs 'curveball' as a metaphor is well suited for the challenge ahead of him.
"Usona Institute has published a breakthrough technique in kilogram-scale synthesis of pharmaceutical-grade psilocybin in the open-access journal ACS Omega. The scalability, controllability, and reproducibility in this newly developed procedure demonstrate that a classic reaction can produce pharmaceutical-grade psilocybin at a large scale in fewer steps…
Over the last few dispatches, I tried to better understand the demand that academic research and future drug development projects would require since a primary business model is cultivation/extraction or synthesis and manufacturing of these compounds.
The qualitative differences between psychedelics and cannabis make it a challenging use case, and current scheduling makes comparisons to other compounds challenging.
Perhaps a simplifying aspect of this scenario is that Usona provides their product to researchers for free:
"Usona is currently providing cGMP psilocybin to qualified researchers, at no cost, through its Investigational Drug Supply Program to advance scientific and medical understanding of the psychoactive compound. The 1.2 kilograms of psilocybin per batch that this process delivers can be used to provide nearly fifty thousand 25-milligram doses of psilocybin."
---
As always, thank you for reading and sharing The Trip Report. See you next time.
Zach