Canada, Hit the Brakes eh?; Meeting of the Five Families; Psychiatry Weighs in on Psychedelics
Good morning and welcome to The Trip Report Pro for Monday, May 4th, 2020.
Sorry that this is coming out so late, and thank you to everyone who sent a message of concern.
Let's go.
---
It's getting pretty wild up in Canada.
The Trip Report is staying away from commenting on the dozen or so companies that have announced their plans for a public offering on a penny exchange but no plans for what they are actually going to do.
The Trip Report aims to support the builders of the psychedelic ecosystem that will be standing in 5, 10 and 20 years time, not those trying to pump it up for a September dump.
But a few thoughts on the frenzy.
A few months ago Michael Novogratz predicted a short term bubble in psychedelics:
"I'm positive this will be the next short-term bubble because it's such a positive story," the former Goldman Sachs partner, hedge fund manager, and cryptocurrency evangelist said at the Context Summits conference in the Fontainebleau Hotel on Miami's South Beach.
What is emerging are two strains, if you will, of psychedelic companies
Short-lived bad trips

long-duration opportunities for growth
Tech, green energy, and crypto are three recent industries that have seen early speculative bubbles in response to hype and hope. Psychedelics certainly fit the mold and we are certainly seeing tulipmania-like exuberance.
Speculative bubbles have their fans and detractors.
They are a part of human nature and to smooth such bubbles out via regulation would stunt innovation, progress, and free enterprise, one argument goes.
On the other hand, they allow bad actors to extract money from ill-informed investors under the guise of building industry infrastructure.
However, unlike tech, green energy, and crypto I am not sure what infrastructure, innovation, or advancement will come from this paper chasing except for chains of shoddy ketamine clinics.
Money well spent.
In marijuana, companies could spend money on grow operations and extraction technology and feel perfectly justified. The demand for psychedelic mushrooms does not compare to the daily consumption habit of weed so mushroom farming seems an even faster race to the bottom.
My sense is that the grassroots decriminalization efforts and the state-level initiatives like Oregon and Hawaii will not create the market that these entrants believe is coming on the one hand. On the other, the drug development gauntlet is too complex and long term.
Strip mall ketamine clinics it is.
The hope is that amidst this insanity there will be companies that are actually building something of value for society that will have access to capital and have the chance to grow something for the long term.
The incumbent psychedelic community appears to mostly concern themselves with issues of patents, access, cost, and turn their attention to ATAI, COMPASS, and MindMed, companies that are actually building.
I have not seen someone like Rick Doblin, Dennis Mckenna, Paul Stamets, or Bia Labate comment on the shenanigans taking place up North. I suppose they're surrendering to the bad trip and hoping it is short-lived.
A Psychedelic meeting of the Five Families
There's certainly no shortage of investor and community-focused digital events but what would it look like if the companies emerging as leaders (with actual business plans) got together at a G8 style summit? Or better yet, a meeting of the Five Families
No press, no streaming, just a good old fashioned smoke-filled room, antipasti, followed by a Feast of the Seven Fishes.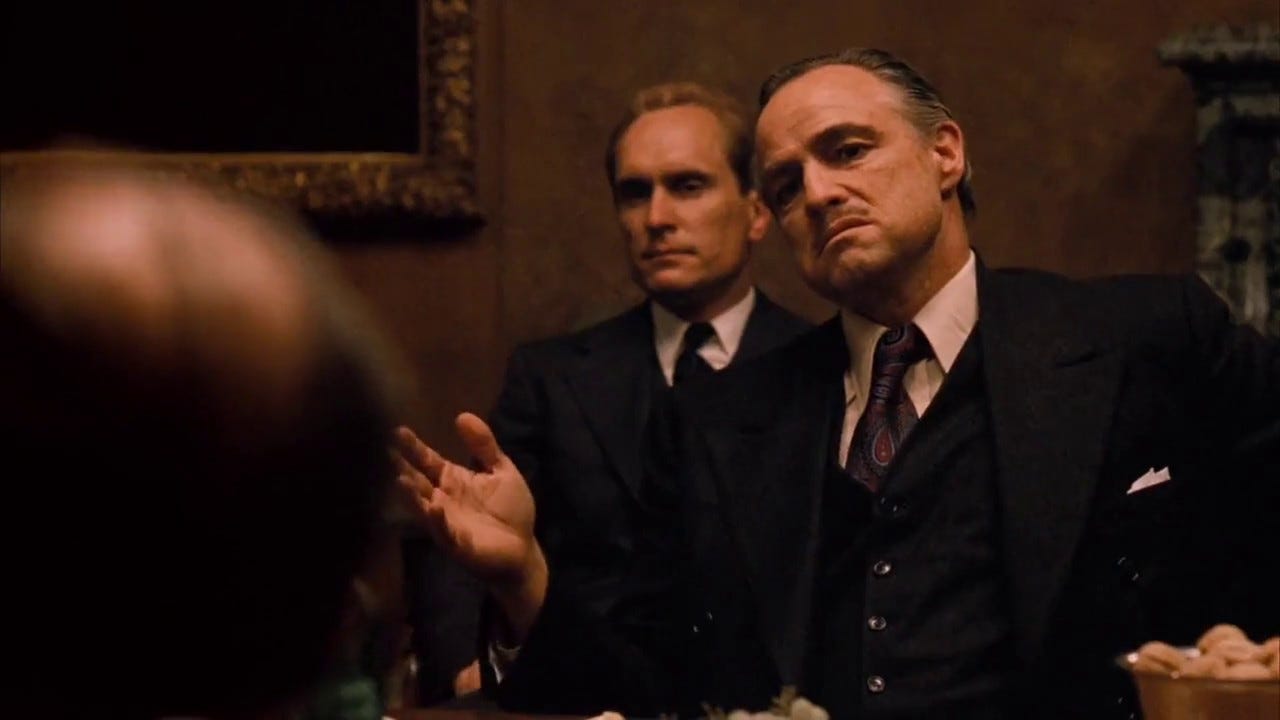 This idea comes from the outspoken David Nikzad of Orthogonal Thinker: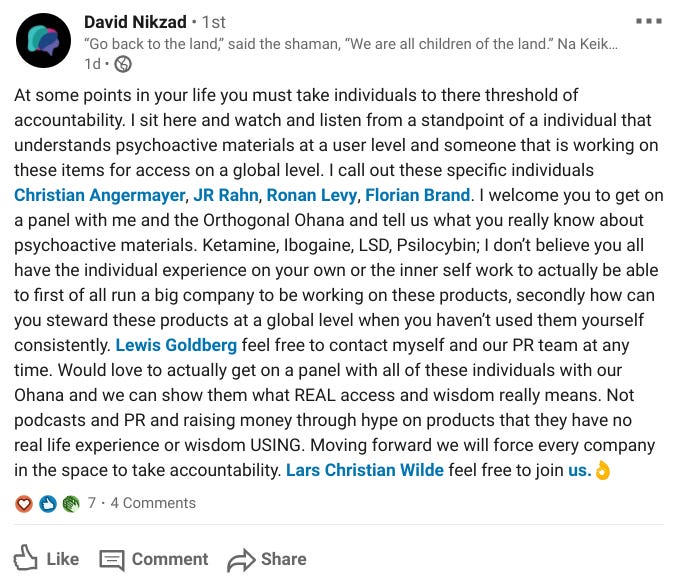 David is no stranger to bold proclamations on LinkedIn.
Here is one that he may come to regret:

Of course, this begs the question of what true access and value actually means.
American Journal of Psychiatry on Psychedelics
The AJP published a literature review of the clinical application of psychedelics. This is a significant milestone from psychiatry's premier journal and marks a change in the priesthood's approach to the emerging psychedelic paradigm.
The Overton Window is a model for understanding how ideas in society change over time. It is usually applied to politics to gauge what ideas voters are willing to accept. For example, Joe Biden, misread the public perception of marijuana and during primaries lauded efforts to oppose legalization. This was a misreading of the public's changing perception of marijuana.
To my mind the Psychedelic Overton Window is changing rapidly and is comprised of three factors:
Mainstream culture

Business

Clinical Medicine
Clinical Medicine is the least resistant to change. In the age of Evidence-Based Medicine new modalities, especially one with cultural baggage and taboo will be heavily scrutinized.
Rightfully, so. There is a long history of drugs, modalities, or models that in small, early research seems very promising but in larger studies don't hold up.
This literature review honed in on clinical applications and came to the following conclusion:
"Randomized clinical trials support the efficacy of MDMA in the treatment of PTSD and psilocybin in the treatment of depression and cancer-related anxiety. The research to support the use of LSD and ayahuasca in the treatment of psychiatric disorders is preliminary, although promising. Overall, the database is insufficient for FDA approval of any psychedelic compound for routine clinical use in psychiatric disorders at this time, but continued research on the efficacy of psychedelics for the treatment of psychiatric disorders is warranted."
This "enthusiasm" from researchers was somewhat curbed in an editorial by Stanford professor and COMPASS consultant Alan Schatzberg titled "Some Comments on Psychedelic Research" which sought to prevent the field from getting ahead of itself by pointing out the lack of control in a hallmark study, issues with blinding and parsing out of conditions that may and may not benefit:
The open-label series of non-cancer patients with refractory depression by Carhart-Harris et al. is suggestive of potential benefit, but its value is questionable because it is not a controlled study…

A key issue in conducting clinical trials in this area is how to blind the trial. This is a problem in the ketamine and esketamine studies, where using saline as placebo is not adequate for true blinding. Without an appropriate blind, what are we to conclude?…

For example, will this treatment be useful in patients with severe refractory depression? Patients with anxious depression? Patients with milder depression who may not be particularly responsive to medication but who may do well on a combination of a psychedelic and some form of therapy?
---
Thank you for reading and sorry again for the late arrival to your inbox.
See you on Wednesday,
Zach