Discover more from The Trip Report by Beckley Waves
on the business, policy and science of psychedelics
Over 5,000 subscribers
Weird times.
I hope you and your families are safe, taking precautions, and preparing for the road ahead.
I don't know about you, but now that I am paying attention, it's disgusting how often I touch my own face. It is like an involuntary tic I never knew I had.
And yesterday, I bought enough pasta, beans and canned fish to feed a small army.
Over the last 24 hours, it became clear that no part of our lives will go untouched by COVID-19, and the psychedelic space is no exception.
Today we're going to look at a few ways the global pandemic is impacting psychedelics.
California & Oregon Ballot Initiatives
Organizers in California and Oregon have been collecting signatures from state voters for the last few months. This type of canvassing happens on sidewalks, at public events, large gatherings, yoga studios, etc. This type of canvassing is about to get a lot harder.
Restrictions are coming, if they haven't already, and they will affect the numbers of people that canvassers can reach.
Neither organization has publicly announced curtailing of efforts, as the D.C. chapter of Decriminalize Nature has, but they will undoubtedly be affected.
Just yesterday, PSI 2020, the measure that seeks to legalize therapeutic access to psilocybin, announced that they had collected 100,000 signatures. They have until July 2nd to collect 112,000.
However, it is unclear if these 100k signatures include non-residents and non-voters who may have signed the petition in enthusiastic support as is known to happen in these things. Organizers set the goal of 160k to mitigate against ineligible signatures.
Decriminalize California, on the other hand, has until April 21st to collect 623,212 valid signatures. Of the two, DecrimCA seems to be more threatened by COVID-19, given the timeline. I am trying to get a signature count and will update if/when they get back to me.

There are a handful of ventures that are betting on DecrimCA to lead the way as the CPG-friendly policy. This is of obvious concern to these outfits. I am not sure the frameworks that come out of the Decrim Nature efforts will be as friendly to a sales/tax/regulation setup.
Decriminalize DC shuts down Petition Gathering
The Decriminalize Nature chapter in Washington DC hit the brakes on their canvassing efforts until April 1st. This effort has the added requirement of signature quotas from distinct districts.
Washington, DC -Today at the March meeting of the DC Board of Elections, the Campaign to Decriminalize Nature DC (DNDC) postponed the adoption of the official circulating petition for Ballot Initiative 81, The Entheogenic Plant and Fungi Act of 2020, until April 1, 2020. DNDC made this decision after COVID-19 led Mayor Bowser to declare a state of emergency in Washington, DC. The DC Board of Elections was supportive of the decision and voted 2 to 0 to delay issuance until April 1, 2020 as requested by DNDC…

..To place Initiative 81 before voters this November, DNDC must collect about 25,000 valid signatures of DC voters, including at least 5% of the registered voters in 5 of the 8 Wards of the District of Columbia, by Monday, July 6, 2020.
Decriminalize Nature Chicago
DNC has a meeting scheduled for today, March 13th. I don't know if this meeting has been postponed, but if it is, it will be the third postponement with Chicago's committee on health and human relations.
Synthesis Suspends Retreats for 30 days
The Amsterdam based psychedelic retreat center made the right call.
I did a quick perusal of some other retreat centers and haven't seen any definitive cancellations. Kudos to Synthesis.

Field Trip Cancels Open House
Friends,

Due to the spread of coronavirus we've made the decision to postpone our March 25th Toronto clinic open house. We are disappointed because we were all excited to show you the space and discuss our approach to ketamine assisted psychotherapy. However, we will reschedule the event as soon as we reasonably can.
Intercollegiate Psychedelics Summit Rescheduled
The IPS summit, which had a great line up of speakers and panels, has decided to postpone until the Fall.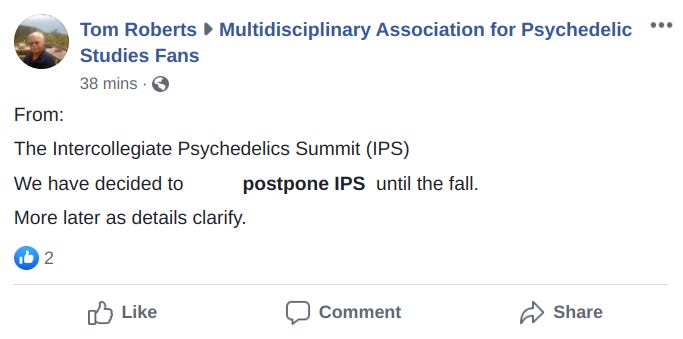 Now for Some Good News:
Thank you for reading and supporting The Trip Report, stay safe, don't touch your face and don't shake hands.
See you on Monday,
Zach