Discover more from The Trip Report by Beckley Waves
on the business, policy and science of psychedelics
Over 5,000 subscribers
Do Psychedelic Entrepreneurs Need Psychedelic Experience?
Proposing the 'Psychedelic Turing Test'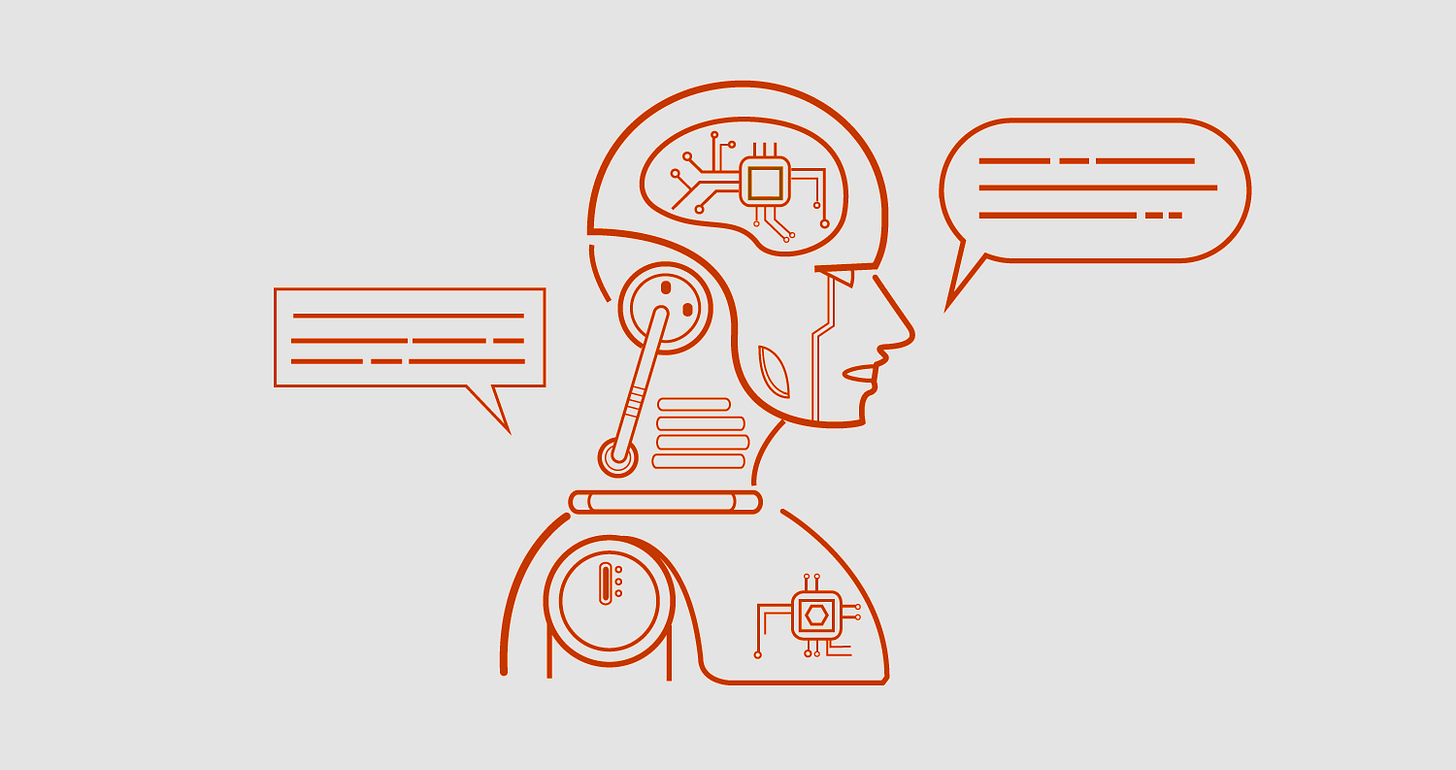 Welcome to The Trip Report, a newsletter for builders of the emerging psychedelic ecosystem on the business, policy, and impact of psychedelics.

If you're as interested in the emerging psychedelic space as we are then you've come to the right place.

If you're new here, welcome and thanks for joining.

If you're enjoying The Trip Report please share it with your friends, colleagues, and dealers on Linkedin, Twitter, by email, etc.
---
Do Psychedelic Entrepreneurs Need Psychedelic Experience?
In 1952 Alan Turing was sentenced to chemical castration in Manchester, England.
A strange way to reward arguably the most important contributor to stopping Hitler, the spread of fascism and ending World War II.
His crime?
Turing was gay.
Turing died 2 years later by alleged suicide by cyanide.
Turing's story is beautifully and painfully portrayed in The Imitation Game.
"You needed exceptional talent, you needed genius at Bletchley and Turing's was that genius."
Just seven years earlier Turing's work for the Government Code and Cypher School during World War II ended the war.
He was tasked with deciphering Nazi coded communication.
Allied ships departing from North America with much-needed food, supplies, and weaponry were routinely picked off by Nazi U-boats, creating a situation so dire that Winston Churchill claimed:
"the only thing that ever really frightened me during the war was the U-boat peril."
Turing created the technology to decipher coded messages sent between German Navy and U-boats spread throughout the Atlantic, providing Allied forces with location and operational intelligence.
By 1943, Turing's operation was deciphering up to 84,000 German messages a month and supplying Allied forces with the information needed to end the war and defeat Germany.
Turing's genius is credited with not only deciphering German encoded communications which allowed Allied Forces to evade and thwart attacks in the Battle of the Atlantic but, by conservative estimates ending the war 2 years early, saving 14 million lives and by reasonable analysis halting the spread of Nazi Fascism.
Not only had he defeated the Nazi's he is credited with birthing theoretical computer science and artificial intelligence.
The Turing Test
Alan Turing's story is not only important for a perspective of World War II and the history of atrocious human rights abuses but also because his work in Artificial Intelligence continues today with an increasing impact on society and the economy.
The Turing Test, developed by Turing, is a proposition that attempts to answer the question, "Can machines think?"
The Turing test, is a test of a machine's ability to exhibit intelligent behaviour equivalent to, or indistinguishable from, that of a human.
Turing, obviously ahead of his time, was cognizant of the future issues that smart machines and artificial intelligence would create for society.
The (in-vivo) Turing Test will be passed when humans interact with life-like machines that they believe to be other humans.
What does this have to do with Psychedelics?
Well, nothing.
But, I thought of the Turing Test when I came upon this post from a friend and psychedelic entrepreneur Chi Psilocybin: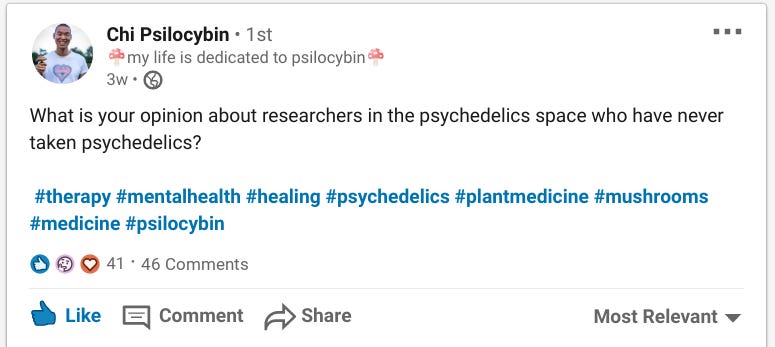 You can follow the link to see the comments, but the range of responses was predictably wide. Everything from 'yes' to 'no' and energetic debate in between.
This question does not come up for infectious diseases, antibiotics, orthopedics, genetics, and most other conditions or interventions—why is this a reasonable question for psychedelics to consider?
Personally, I think researchers need not have experience with psychedelics to conduct high quality and insightful research. It probably makes for more impactful outcomes if they don't have a dog in the fight. It probably leads to a different set of questions and experiments if they are skeptical, having not been positively impacted by the psychedelic experience.
However, I am not sure the same logic applies to entrepreneurs, investors, and advocates.
The Psychedelic Turing Test
My comment in response to Chi's post:

Because science seeks to identify truth and business seeks to create value, psychedelic entrepreneurs and investors should be encouraged to test the goods.
Encouraged, not commanded.
It is, of course, a personal question and there are valid and understandable reasons for abstaining from psychedelics even as an entrant into space.
But the effects of psychedelics are profound.
So profound that many expect the psychedelic renaissance to fundamentally improve society, politics, culture and the human experience.
I am not so utopic in my forecasting but I do think entrepreneurship in psychedelics carries a responsibility that is absent in many other areas.
So I propose the Psychedelic Turing Test:
A psychedelic entrepreneur will reveal their understanding of the gravity of psychedelic 'technology' in the manner in which he or she does business.
I don't think it is fair to demand proof, to check if their psychedelic v-card has in fact been punched.
But it is reasonable for entrants to display an understanding of the traditional uses, cultural importance, science, history, and display good faith practices that respect the power of these tools, the affection that so many have for them and operate in good faith.
Psychedelics, like AI, are poised to impact society in truly unique ways. AI has garnered much attention for the dystopic future that many fear, while psychedelic proponents are more positive in their outlook.
Both require responsible handling.
The Psychedelic Turing Test is a heuristic we might use to gauge the efforts of ourselves and our colleagues as we build the psychedelic ecosystem.
---
We're in the midst of a revolution in consciousness, medicine, and health.

The transition, already underway, from underground, illegal and sacred to commercialized, legal and profane is fascinating, scary, and hopeful.

If you're as fascinated by this transition as we are, The Trip Report has you covered.

You can sign up here to have future dispatches sent directly to your inbox:
---
Comments, questions, tips? Send me a note - thetripreport@protonmail.com
Written and toiled over in Portland, Maine by Zachary Haigney