Discover more from The Trip Report by Beckley Waves
on the business, policy and science of psychedelics
Over 5,000 subscribers
FDA getting cold feet? Denver's mushroom committee, California update; That Guy from 60 Mins; Compass' review
It's 2020 - "Cabs Are Here!"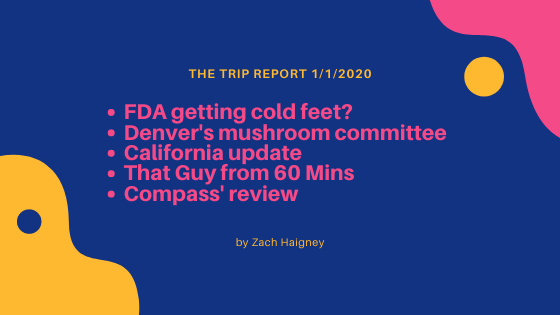 Welcome to The Trip Report, a newsletter for the builders of the emerging psychedelic ecosystem on the business, policy, and impact of psychedelics.
If you're as interested in the emerging psychedelic space as we are then you've come to the right place.
If you're new here, welcome and thanks for joining.
If you're enjoying The Trip Report please share it with your friends, colleagues, and dealers on Linkedin, Twitter, by email, etc.
Mission:
The Trip Report seeks to offer builders of the psychedelic ecosystem a system's thinking framework for interpreting the news, issues, and topics important to the mission of expanding Psychedelic access and psychedelic medicine thoughtfully and effectively— along with the occasional pop-culture reference, clever pun, and benign dad-joke 😲.
To that end, please continue to reach out to let us know what you enjoy, what you'd like to see, and what would help you in your projects, organizations, and ventures.
Thank you— here's to a happy, healthy and exciting 2020
If the theme of 2019 in the psychedelic ecosystem was: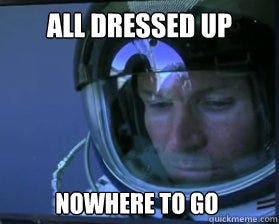 The theme of 2020 will be: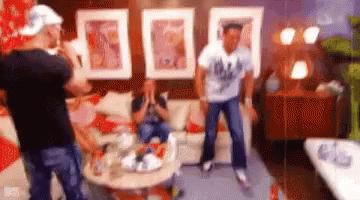 (For the uninitiated, "CABS ARE HERE!" is the rallying call from the MTV production, The Jersey Shore, that signaled the evenings pre-gaming was done and the night on the town (Seaside, NJ) was to commence.)
The first wave of cabs departing for the night club of the psychedelic future expected to arrive in 2020 are:
MAPS' MDMA Expanded Access Program

Decriminalize California's Legalization Ballot Initiative

Oregon's Medical Access Ballot Initiative

Denver, Oakland and Chicago's experiment with Decriminalization
2020 will be a truly exciting year for psychedelics, gabish?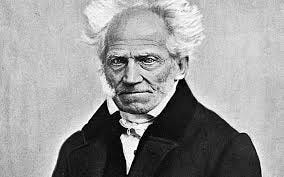 A more sophisticated way of thinking about this period in psychedelic history is summed up by the following Arthur Schopenhauer quote:
"All truth passes through three stages.

First, it is ridiculed.

Second, it is violently opposed.

Third, it is accepted as being self-evident."
There can be little doubt, especially amongst The Trip Report community that we are in the transition from violent opposition to self-evidence.
What a time to be alive.
Is FDA getting cold feet on Expanded Access?
The MAPS Winter Bulletin included an article by Timothy Crespi who has been laying the groundwork for his Portland, Oregon clinic Somatic Center Portland.
The first opportunity for legal psychedelic-assisted therapy, which many expected to see in 2019, will likely be MDMA assisted psychotherapy for PTSD through the FDA sanctioned Expanded Access Program.
The Maps PBC sponsored trial (MDMA for PTSD) was the first recipient of Breakthrough therapy status from the FDA back in 2017, since then Psilocybin has been granted the same distinction through Usona and Compass Pathways.
This recognition from the FDA is an acknowledgment that the safety data, the efficacy data are up to par and that there is a massive need for the condition in question (PTSD).
In this arrangement, the FDA tells MAPS how high of a bar they need to reach in the last phase of a clinical trial to then transition to Expanded Access in which participants will receive open-label (no placebo group).
A few weeks ago I spoke with someone overseeing a Phase 3 trial site and I was told the FDA seems to be getting cold feet:
"Unfortunately, this rollout was supposed to be sort of wide and strong with MAPS for expanded access and now it looks like the FDA is really dialing back. I think it's going to be much slower than everyone had hoped and planned for…

…the FDA has gotten a little cold feet on this and originally there was talk about 500 patients going through the first cohort of access and 50 clinics, and now it's being dialed back more to, maybe, 50 people and maybe 10 clinics. So that's been one of the frustrating parts making a lot of us feel like the FDA is getting some top down, negative pressure about this stuff. I think it may have caught somebody's attention one of the old guard or something, I don't know."
Shortly after this conversation Noah Potter, an attorney working in the psychedelic space posted this to Linkedin:

That would be so painful.
However, this apparent slow-down will not affect future approval, assuming all the data are up to par, but it is a major bummer for the hundreds of therapists and clinicians who have gone through training and are anxiously awaiting the opportunity to practice Psychedelic Therapy.
In February of 2019, in an interview on Psychedelics Today, a representative from MAPS estimated expanded access could be as soon as June of 2019— so is it safe to assume we'll see it in 2020?
I suppose we'll find out.
Denver's Shroom Panel
In May Denver voters passed Initiative 301 which, in short, decriminalized possession of Psychedelic Mushrooms.
It also called for the creation of an 11 person Psilocybin Mushroom Policy Review Panel to be made up of City Council Members, representatives from Decriminalize Denver (Kevin Matthews & Sean McCallister), a harm reduction expert, members of the Denver Police, representatives from the DA, and others.
The Panel is tasked to:
Submit a comprehensive written report with recommendations to the City Council that will include, but not be limited to, information concerning the public safety, public administration, public health and fiscal impacts of this article IX. This report shall be completed and presented at the first available City Council Committee Meeting for calendar year 2021.
In a Facebook post Kevin Matthews said:
"Our Panel is the only municipal body of its kind in the world that has a specific mandate to collect data and report on the effects of psilocybin decriminalization in a metropolitan area.

I'm enthralled because we have an opportunity to set precedent for the rest of the country by answering the question: "What happens after decriminalization?"

To me, this means that we integrate into the city's health, civic, and social infrastructure as much as applicable and possible, create relationships in our communities to discover how we can best be of service, and discover how psilocybin can address issues including but not limited to: risk/harm reduction training for law enforcement and first-responders, expanding mental health and substance abuse treatment services, diverting individuals from possible incarceration to treatment/therapy for drug offenses/abuse, medical professionals and patients' rights for psilocybin therapy, and most importantly, individual/personal use rights."
California Legalization Initiative
We'll have to wait until November 2020 to officially declare THE CABS ARE HERE on the California Legalization effort and Oregon Medicalization effort—California advocates are anxiously awaiting the green light to begin the signature-gathering phase. Oregon volunteers began gathering signatures a few weeks ago.
623,212 California voters will need to sign the petition before April according to Zach Topley of DecriminalizeCA.
Kyle Jaeger penned a recent summary of the California Initiative for Marijuana Moment last week. Highlights include:
The legal cultivation and distribution of psilocybin "for personal, spiritual, religious, dietary, therapeutic, and medical use," (which to my ears will allow a wide berth for developing IP, branding and specific use)

California Dept of Food and Agriculture will be responsible for issuing licenses for psilocybin businesses and regulating the market.

Adults (18+) can grow and possess fungi for personal use

"Psilocybin Mushroom-assisted psychotherapy may be delivered by qualified and licensed practitioners… Therapy may be provided by mental health professionals who have obtained specialized training in psychedelic-assisted therapy and a license to administer Psilocybin for specific indications."

If approved we're looking at a September 2021 start
60 Minute Trip (it's actually 13:24)
It's That Guy From 60 Minutes!
60 minutes re-aired their segment on Psychedelic Science featuring, Rolland Griffiths and Matthew Johnson from Johns Hopkins, Anderson Cooper prepping for Lift-Off and a handful of study participants who speak highly of the outcomes and meaning from their psychedelic therapy.
While scrolling Linkedin the other day I saw a post and said to myself, "Hey that's the guy from 60 Minutes!"
Jon Kostakopoulos, a New York-based entrepreneur, featured on the program is, in fact, the CEO and Chairman of OptoSom, a company that seems to be working on policy-level initiatives to move psychedelic medicine forward:
OptoSom is an organization committed to working with governments, healthcare providers, and individuals to make psilocybin an alternative therapy for those suffering from addiction and psychological illnesses such as anxiety, depression, PTSD, and OCD.
I plan to connect with Jon in 2020 to learn more about OptoSom and how he envisions Psychedelic Assisted therapies being integrated into conventional mental health and psychiatric medicine.
We also learn in the 60 Minutes segment that Timothy Leary was ripped: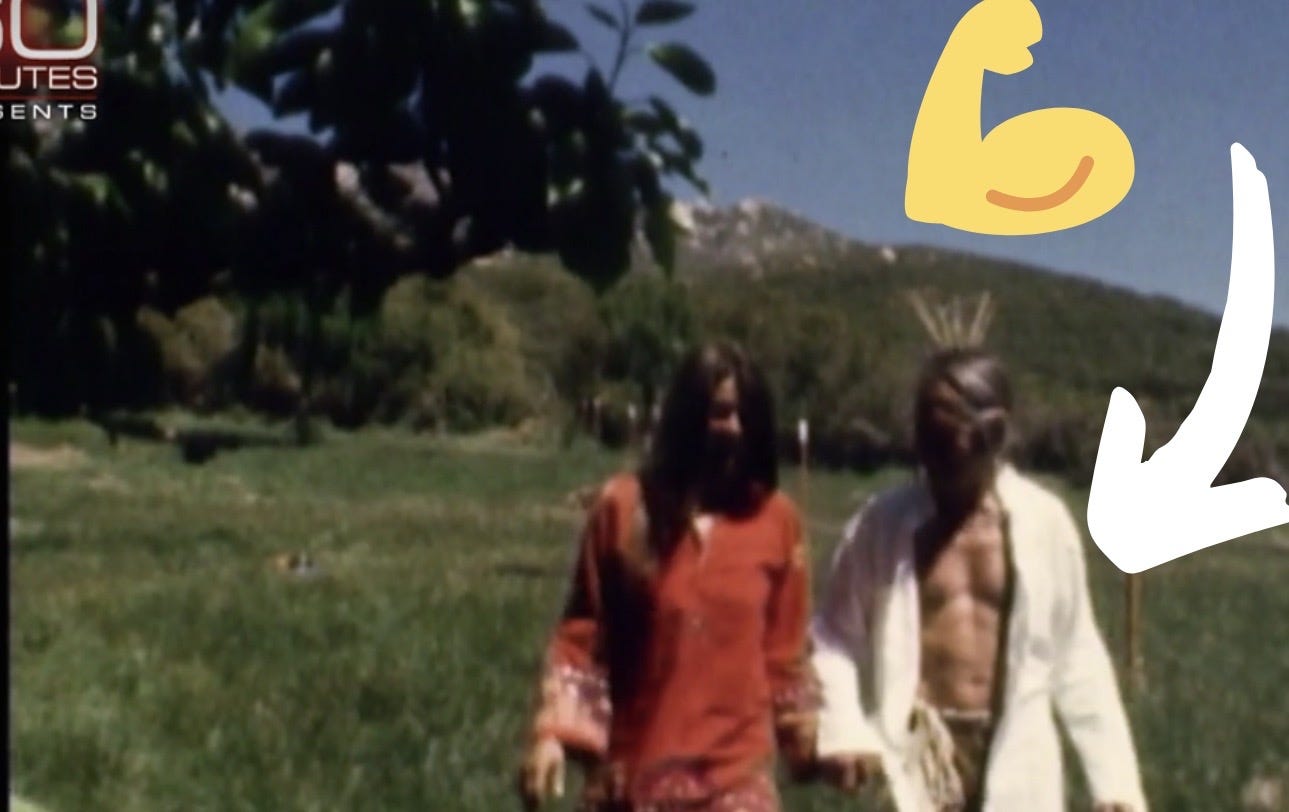 Ekaterina Malievskaia opined in a year-end reflection on the progress, topics, and issues that Trip Report readers care about.
I would encourage you all to have a read but the key takeaway for me was Malievskaia's observation of the widening chasm between ventures planning to capitalize on decriminalization/legalization measures and those seeking to go the medical route.
"This year we have also witnessed the growth of interest in psilocybin from entrepreneurs and investors. According to LinkedIn, there are now more than 300 new companies and platforms in the psychedelic space, mostly focusing on recreational consumer-oriented markets. As the field grows, the division between recreation and medical use will become clearer as these different models require different resource and funding, skills and risk tolerance."
She also offered up the opinion;
"The most successful decriminalisation and legalisation efforts are unlikely to make a dent in the mental health crisis we are facing."
In subtle ways, I see this opinion in the messaging from those going the medical route on social media, interviews etc. It often comes in the form of a warning about the risks and hazards of unsupervised use of psychedelics and the need for medical supervision.
While I tend to disagree with this sentiment, I understand it.
But I wonder how much Malievskaia and others recognize the extent to which Medicalization needs decriminalization and legalization.
Top-Down and Bottom-Up.
We should hope for a healthy ecosystem that includes recreational, spiritual, and unconventional therapeutic uses rather than limited access to FDA/EMA approved compounds administered by a person in a white coat.
---
We're in the midst of a revolution in consciousness, medicine, and health.

The transition, already underway, from underground, illegal and sacred to commercialized, legal and profane is fascinating, scary, and hopeful.

If you're as fascinated by this transition as we are, The Trip Report has you covered.

You can sign up here to have future dispatches sent directly to your inbox:
Comments, questions, tips? Send me a note - thetripreport@protonmail.com
Written and toiled over in Portland, Maine by Zachary Haigney