Discover more from The Trip Report by Beckley Waves
on the business, policy and science of psychedelics
Over 5,000 subscribers
Field Trip's Series A; Psychedelic Jobs; DC's First Step; Scientology be trippin'; and Other News
Welcome to The Trip Report, a newsletter for the builders of the emerging psychedelic ecosystem on the business, policy, and impact of psychedelics.
For new readers, welcome to this quickly growing community of psychedelic stakeholders— if you have any questions, suggestions or feedback just hit respond or shoot an email to thetripreport@protonmail.com
---
Reminder:
The Trip Report Pro
launches
on February 24th.
If you value and enjoy The Trip Report perhaps two additional updates per week will tickle your fancy.
The Trip Report Pro will go out Monday & Friday starting February 24th with additional news, analysis, and commentary on the emerging psychedelic ecosystem:
Wednesday posts will remain free and available to all

The new Monday and Friday posts will be subscriber-only with more in-depth and long-tail coverage of the news, events, deals, companies, policies along with analysis and commentary.

Subscriber-only community features (discussions, guest posts, AMAs, etc.)

Sign up before March 1st to get The Trip Report Pro for $10/month or $100/year for the first year.

After March 1st $20/month or $200/year
A quick note before we dive in.
On Friday morning, Chinese Ophthalmologist Dr. Li Wenliang died from the virus he sought to warn Wuhan government officials about.
He left behind a child and a pregnant wife.
This event, and circumstances surrounding it, has galvanized millions of Chinese people to speak out against a government that brutally enforces censorship and restricts free speech in numbers unseen in decades.
I started writing about psychedelics, their use as therapeutic agents and the emerging ecosystem forming without the slightest concern for government silencing or surveillance even though they are still illegal.
I suppose I mention this not as a sign of gratitude to a benevolent American government but simply as a reminder that as we build this psychedelic renaissance and leverage these gifts of nature and science for the suffering and to be better versions of ourselves, there are billions of people who live in a cage of a society who will need the healing properties of psychedelic medicine if they ever get the opportunity.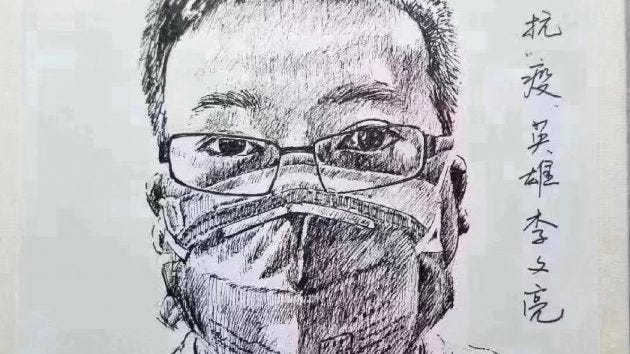 ---
Business
Field Trip Health announced the closing of a Series A round $8.15 million.

"The funds will be used to execute the initial stages of Field Trip's strategic plan to build out the world's first network of medical centres focused exclusively on psychedelic-enhanced psychotherapy. Additionally, the financing will help fund the final construction of its research and cultivation facility at the University of the West Indies in Jamaica that is dedicated to the study of psilocybin-producing mushrooms and the discovery of novel therapeutic molecules."

Field Trip's two primary projects are a network of clinics dedicated to psychedelic medicine and a research facility in Jamaica, presumably to develop products and extraction and purification IP.

Clinics are set for Toronto, Los Angeles, and New York and will offer ketamine assisted therapy as the first offering/service.

"The financing was led by Field Trip's founders and Singhal Health Foundation. Other notable investors in the round include Subversive Capital, Silver Spike Capital and the venture capital firm Bolt, as well as individual investors Harris Fricker, an early stage investor and pioneer in e-payments and blockchain, and Ben Greenfield, a globally recognized longevity expert and biohacker."

Sanjay Singhal, the provisioner of CoffeeOystersChampagne, which presumably serves, coffee, oysters, and champagne (ironically, my wife had the very same idea for a seasonal coffee-oyster-craft beer/rose shack up here in Maine. However, and the imagined decor was more akin to an ice-fishing hut (Sanjay lets talk)) is also the man behind 500 Startups Canada and Singhal Health.

In addition to caffeine, bivalves and sparkling wine, Singhal backs MAPS and Imperial College London through Singhal Health.

The other notable investor is health/fitness personality, Ben Greenfield. Greenfield covers quite the array of health/longevity/biohacking topics, psychedelics are certainly among them.

Triple Bottom Line

Probably the most notable an interesting bit of info is Field Trip's commitment to a Triple Bottom Line.

"Additionally, Field Trip has amended its Articles of Incorporation to reflect its commitment to Triple Bottom Line operations. A "Triple Bottom Line" approach to business (commonly described as "people, planet and profit") requires an organization to assess and account for its social and environmental impacts, in addition to its financial impacts in its decision-making processes." 

Along with the exuberance for a psychedelic renaissance, there is a palpable concern for "getting this right".

By many accounts, the cannabis playbook is fucked. Big pharma playbook is fucked. Healthcare is fucked. It is even possible that the majority of people consider capitalism itself to be solely a source of greed, corruption, and ecological devastation.

The triple bottom line is a framework that fosters accountability for negative externalities and second-order effects along with profits into a company's incentive structure.

Profits and losses are obviously easy metrics to account for, however, accounting for people and the planet are less straightforward.

A challenge for emerging industries like Artificial Intelligence, Renewable Energy and Psychedelic will be accounting for the incentives, second-order effects, and unintended consequences.

A challenge facing psychedelic stakeholders is the viewpoint diversity on the appropriate place in society for psychedelics, appropriate business structures, supply and cultivation, distribution, marketing, and public education.

No easy answers.

Aligning incentives to mitigate negative externalities is not straightforward, but a triple bottom line is a good start.

Hopefully, this stance from a first mover in the psychedelic space can signal to other entrants the importance of psychedelic stewardship.

Jobs in the Psychedelic Ecosystem

Rewind almost 14 years and you'll find this article by R. Andrew Sewell, MD, giving guidance to those seeking a research career in psychedelics.

"With the current renaissance in psychedelic research, after a forty-year moratorium, undergraduates interested in the topic are increasingly starting to ask: How can I get involved? Unfortunately, psychedelics are still heavily stigmatized, and there is as yet no obvious infrastructure into which enthusiasts can channel their energy. There are no psychedelic research graduate programs, no psychedelic student groups, no psychedelic scholarships, and few professors willing to provide mentorship or funding agencies willing to sponsor such research"

Unfortunately, Dr. Sewell passed away in 2013 and cannot appreciate the change in opportunities for budding psychedelic researchers, clinicians, therapists, entrepreneurs, and others.

Here are links to opportunities to work in psychedelics.

Other Business Headlines

George Goldsmith of COMPASS Pathways on Bloomberg

MindMed Cofounder on the Bio Report Podcast

The Parallels Between Cannabis & Psychedelic Companies

Business Strategy For Psychedelic Companies

Yield Growth Acquires 18% of Translational Life Sciences

Roadman Investments Completes LOI with Legal Dutch Psilocybin Therapy Center
Policy
"If approved by voters, the initiative wouldn't formally legalize or decriminalize the possession and use of magic mushrooms and psychedelic plants, but rather make enforcing those laws the "lowest priority" for police in the city. Both are currently listed as Schedule I drugs, which can bring heftier penalties.

Proponents specifically worded the initiative like that to avoid violating an existing congressional prohibition on D.C. taking any steps to lower penalties on marijuana or other illegal drugs.

"The proposed initiative would not in any way legalize, or reduce any penalty for possession, use or distribution, of entheogenic plants," said Joseph Sandler, an attorney for Decriminalize Nature D.C., the group leading the effort. "It would simply enact new language establishing a new policy to be implemented by MPD."

Spore + Reconsider

The Society for Psychedelic Outreach, Reform, and Education, or SPORE (and would be winners of the best acronym award) announced a partnership with Reconsider.org which will allow them to accept tax-exemption donations.

Kevin Matthews announced it via Linkedin:
Impact
Psychedelic Clinical Trial Finder

I stumbled upon Enter Here, a site that makes it easy to find psychedelic clinical trials by location, condition and other factors.

This week I learned that the church of Scientology runs a website called Citizens Commission on Human Rights International which operates as a mental health/psychiatry watchdog group

"Current research into psychedelic drugs in the treatment of mental disorders is heading in a dangerous "Brave New World" direction… CCHR says that even if psychedelic drugs are administered to consenting subjects, such research demonstrates a fundamental disregard for human life because of the drugs' mind-altering properties, born out by the psychiatric-intelligence community's past research of LSD, psilocybin (magic mushroom) and amphetamines."

"The fact is, we're at a cultural and scientific inflection point, rapidly and radically reconsidering what we thought we knew about drugs such as psilocybin (the chemical that makes magic mushrooms magic), LSD, and even MDMA and Ketamine. While mainstream society over the past half-century has often dismissed them as the stuff of burnt-out hippies and party kids or condemned them as downright dangerous, both the medical establishment and Silicon Valley have begun to loudly advocate for their untapped and possibly revolutionary therapeutic potential"
---
The Trip Report Pro launches
on February 24th.
If you value and enjoy The Trip Report perhaps two additional updates per week will tickle your fancy.
The Trip Report Pro will go out Monday & Friday starting February 24th with additional news, analysis, and commentary on the emerging psychedelic ecosystem:
Wednesday posts will remain free and available to all

The new Monday and Friday posts will be subscriber-only with more in-depth and long-tail coverage of the news, events, deals, companies, policies along with analysis and commentary.

Subscriber-only community features (discussions, guest posts, AMAs, etc.)

Sign up before March 1st to get The Trip Report Pro for $10/month or $100/year for the first year.

After March 1st $20/month or $200/year