Discover more from The Trip Report by Beckley Waves
on the business, policy and science of psychedelics
Over 5,000 subscribers
MindMed's LSD Acquisition
Good Morning and welcome to The Trip Report Pro for Monday, April, 6th 2020. I hope you had a lovely weekend.
As I noted last week I am exploring a few ideas to make this a more valuable resource. I am going to spend a few weeks thinking about it but if you have any ideas let me know.
Get 20% of your Virtual Psychedelics Conference tickets with discount TRIPREPORT
As always thanks for reaching, sharing, emailing and commenting.
---
MindMed + Matthias Liechti =LSD
Last week MindMed announced an exclusive partnership with the heir apparent of LSD research, Dr. Matthias Liechti of University Hospital Basel.
"a multi-year, branch exclusive collaboration with the laboratory of Professor Dr. Matthias Liechti, the world-leading psychedelics pharmacology and clinical research group at University Hospital Basel in Switzerland."
It's kind of a big deal. As Oxford Neuroethicist and Trip Report reader Edward Jacobs put it:
Matthias Liechti
From the press release:
"Liechti Lab's research focus is on the pharmacology of psychoactive substances in vitro and in humans. The Laboratory investigates the pharmacokinetics-pharmacodynamics of MDMA, LSD, and amphetamines in humans including psychological tests, pharmacogenetics, and functional brain imaging…

"Over the past decade we have amassed the largest collection of clinical trials around LSD; we have been studying the pharmacology and potential medical uses of LSD and other psychedelics for many years in the laboratory, in patients, and in healthy volunteers," said Professor Dr. Liechti."
Part of this extensive collection around LSD includes safety research. The first principle of medicine is Do No Harm. The same could be said for clinical research.
The first question that an ethics review board would have is "if people are doing this, how many are dying?" as a rationale for allowing LSD research in humans.
A unique feature of Psychedelics is the long history of human use. A unique feature of Liechti's early research is the focus on recreational habits, safety, and adverse events. As we'll see, this early research could be essential for patent protection of a repurposed/public domain drug.
Building upon his work examining the recreational use and safety of LSD, Liechti has built out the world's premiere LSD research program.
And MindMed certainly thinks so, here's MindMed co-CEO JR Rahn by email:
"We feel this partnership with UHB and acquisition of eight LSD clinical trials is one of the most impactful moments for the research and development of psychedelics as medicines. We plan to build a strong portfolio of FDA clinical trials for LSD based on Dr Liechti's work."
The below video is from October's MIND Foundation conference and gives a good overview of the LSD research to date:
What Does This Mean?
"Under the agreement, MindMed gains exclusive worldwide rights to data, compounds, and patent rights associated with the Liechti laboratory's research with LSD and other psychedelic compounds, including data from preclinical studies and eight completed or ongoing LSD clinical trials. MindMed has already begun working with Professor Dr. Liechti's laboratory to file patents for the data and clinical trials it has generated over a 10-year period."
The first question that comes to mind is, "Isn't LSD already patented?"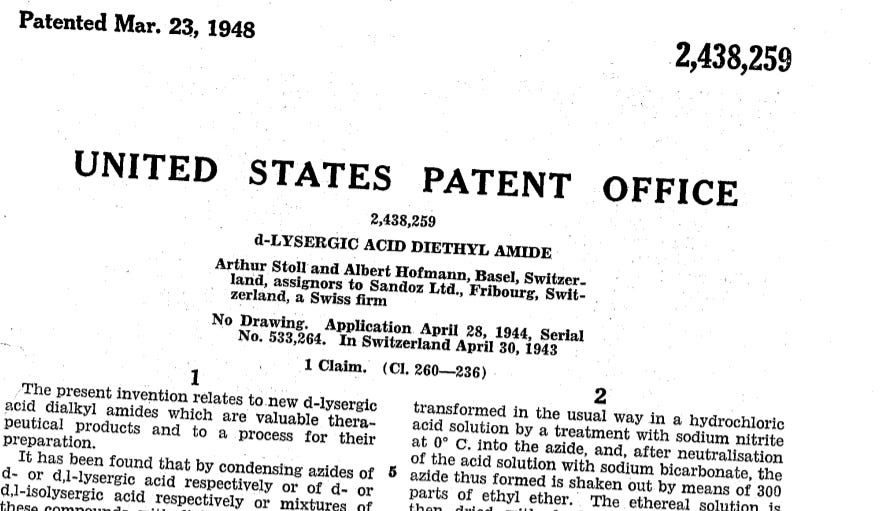 Yes, of course, LSD is patented.
If you search for "Lysergic acid diethylamide" in the US Patent Office database, you'll find that there are many patents related to LSD, 594 to be exact, but a quick glance reveals that very few are associated with the use of the molecule.
The next question that occurred to me was, "Is MindMed setting themselves up for COMPASS style patent disputes?"
After all, if I understand it correctly, the roadblock to COMPASS's attempt to patent their COMP360 is work done by none other than Albert Hoffman, the inventor/discoverer of LSD who went on to identify and synthesize psilocybin.
If COMPASS is having such trouble, wouldn't MindMed?
I am no patent law expert, and I don't pretend to play one on the internet, so I asked Stephen Hurst, MindMed co-CEO, if he could shed some light on the matter. Here's what he had to say:
"Although patent protection for the chemical compound LSD has not been available for decades and is unavailable to anyone, significant proprietary data supporting new intellectual property can be generated through novel and useful technology employing LSD as an active pharmaceutical ingredient, including novel methods of manufacture, new uses, proprietary formulations and surprising experimental results. The innovative work of the Liechti laboratory is a treasure trove of novel data on LSD and other compounds we will be disclosing in the future." (emphasis added)
In a 1992/93 Newsletter to MAPS stakeholders Rich Doblin does an excellent job of explaining this when he hired a patent lawyer to help him sort out the options of protecting MDMA appropriately:
"There are several kinds of patents for molecules; composition of matter, manufacturing process, and use patents. Even if the composition of matter patent has expired, it is still possible to gain legal control over the use of a particular molecule for a particular purpose through obtaining a use patent or through patenting an inexpensive and efficient manufacturing process."
***Quick note: Reflecting on the history of MAPS is like looking into the night sky on a small dose of mushrooms; when you actually stop to consider that they have been doing this work for over 30 years, it is mind-blowing.***
So You're Telling Me There's a Chance
According to John Conour, of McDonnell Boehnen Hulbert & Berghoff LLP;
" patent protection is possible for previously known drugs being repurposed for new indications.  The best chances for patenting repurposed drugs occur when care is given to initial experimentation to establish the usefulness of the drugs and for identifying any unexpected properties of the drugs." (emphasis added)
So MindMed believes Liechti's early work on recreational use and safety combined with his robust LSD focused research program is going to be sufficient enough to clear any IP hurdles.
Since Liechti's lab also has done extensive work on MDMA and other designer drugs, I wonder what plans are in store beyond LSD?
Again, Rhan via email:
"The existing license we have acquired focuses on LSD, but leaves the opportunity to conduct additional clinical trials on psychedelic substances which Dr Liechti sees compelling therapeutic potential for. Announcements to follow."
---
As always, thank you for reading.
Zach