Discover more from The Trip Report by Beckley Waves
on the business, policy and science of psychedelics
Over 5,000 subscribers
MAPS Expands Access; Ibogaine pitched @ Davos; 'Psilocybin' Trademarked and more
What a time to be alive
Welcome to The Trip Report, a newsletter for the builders of the emerging psychedelic ecosystem on the business, policy, and impact of psychedelics.
For new readers, welcome to this quickly growing community of psychedelic stakeholders— if you have any questions, suggestions or feedback just hit respond or shoot an email to thetripreport@protonmail.com
If you're enjoying The Trip Report, please share it with your parents, children, siblings, cofounders, LPs, employees, colleagues, trip sitters, guides, shamans and dealers.
MAPS Announces MDMA Expanded Access
On May 31st, 1985 the DEA announced the emergency rescheduling of MDMA as a Schedule 1 narcotic, under dubious circumstances, making it illegal and classifying it as having no medical benefit and a high potential for abuse.
On January 17th, 2020 MAPS announced that the FDA has approved the Expanded Access Program for the use of MDMA for the treatment of PTSD.
The FDA will allow a cohort of 50 patients with treatment-resistant PTSD to participate. This number is expected to rise as they review data and outcomes from the first participants.
Considering that full approval is estimated to be 2+ years away I would expect to see this number go into the thousands.
Because not just anyone will be able to open up a psychedelic clinic and offer treatment, Expanded Access is a huge first-mover advantage for establishing best practices for a budding clinic.
I assume that all of the 10 sites will be those that have been part of Phase II and III trials to this point but it will be interesting to see if there are any partnerships, say between MAPS and Field Trip, Numinus of any of the other entrants hoping to stake out space in the clinical realm.
Congratulations to the MAPS team and thank you for the work that you've put in for the last 30+ years, we appreciate it.
Ibogaine Goes to Davos?
The World Economic Forum, known simply as Davos, took place this week where very important people fly in private jets from around the world to "seriously discuss" climate change and tax avoidance.
Sorry, not tax avoidance, climate change, and adequately stocking their New Zealand based doomsday bunkers.
Sorry, not doomsday bunkers, climate change and how to get a hold of Jeffrey Epstein to find out where the new Fuck Island is located.
Sorry, not Fuck Island.
The perils of climate change, existential risk how to raise the standard of living for the poor and marginalized.
Yes, that's it.
Last year the WEC hosted a forum titled The New Science of Psychedelics in which Robin Carhart-Harris the head of psychedelic research at the center for neuroscience and pharmacology at London's Imperial College spoke about the bright psychedelic future.
This year Carhart-Harris is boycotting Davos by locking himself in an isolation tank:
But there is no mention of psychedelics in any of the presentations, panels, and forums in 2020.
However, Bloomberg did publish a piece about Christian Angermeyer pitching Ibogaine, via the company, Demerx to Davos attendees, at least that's how it reads.
"The World Economic Forum's billionaire audience in Davos took a break from the problem of climate change to listen to the story of a company developing a hallucinogenic drug…Interest in such therapies is high as an opioid epidemic rages in the U.S., the German firm's founder Christian Angermayer said in the Swiss ski resort."
The implication, which I was not aware of, is that ATAI has a stake in Demerx, which has a GRIP of Ibogaine related patents (the kids use "a grip" to mean "a lot", or "an abundant amount").
Very interesting stuff.
Addiction was a highlight of the meeting and an interesting event on the topic.
"Worldwide, addiction may be the most formidable health problem, affecting about one in every five people over the age of fourteen. In purely financial terms, it costs more than five times as much as AIDS and twice as much as cancer. In the United States, this means that close to 10 percent of all health-care expenditures go toward prevention, diagnosis, and treatment of people suffering from addictive diseases, and the statistics are similarly frightening in most other Western cultures. Despite all this money and effort, successful recovery is no more likely than it was fifty years ago."
I wonder how much of a shift has occurred from "substances are the problem" to "psycho-emotional pain and coping strategies borne out of a hostile/violent/stressful environment is the problem which substances temporarily alleviate" in Davos circles?
When the Going Gets Weird, the Weird Trademark "
Psilocybin"
If you're reading this, you already know…
"psilocybin" has been trademarked.
Sorry, Maria Sabina.
Sorry, Paul Stamets.
Sorry, Kevin Matthews.
Sorry, Usona.
Back to the drawing board.
Forget the transgressions you may think the "big fish" in psychedelics have perpetrated.
You haven't met the "brand visionary" that is Scarlet Ravin.
But don't worry, the trademark is in good hands as you can tell from this coherent explanation Ravin gave Marijuana Moment:
"The only way that we are going to have access to mainstream consumers is by having some sort of trademark on the word so that we can use it for something that's not what it actually is."
🤔
"we're all here to follow spirit guidance to show love and light, and the visions I had of doing what we're doing now was based upon breaking boundaries and breaking perceptions and allowing people to have an opportunity to sink into being one unit."
I can't even…
"We can use any platform to come together as a whole, and the longer that people sit in duality and say, 'oh now she's going to have a stronger voice than me is just looking at something not through their heart,' it's looking at it through ego and judgement."
Clearly, Ravin is laying it on pretty thick and it may prove to be a good strategy.
The whole 'love and light' stuff gives the impression of incompetence which leads some to believe that the intention is pure and it is nothing to worry about. And as we'll see from some comments below, this does not appear to be an egregious power grab.
Some choice reactions to the "education-based chocolate company" from around the web:


Some clarification from ChillVibesMan, presumably an attorney about what this might mean in a commercial context: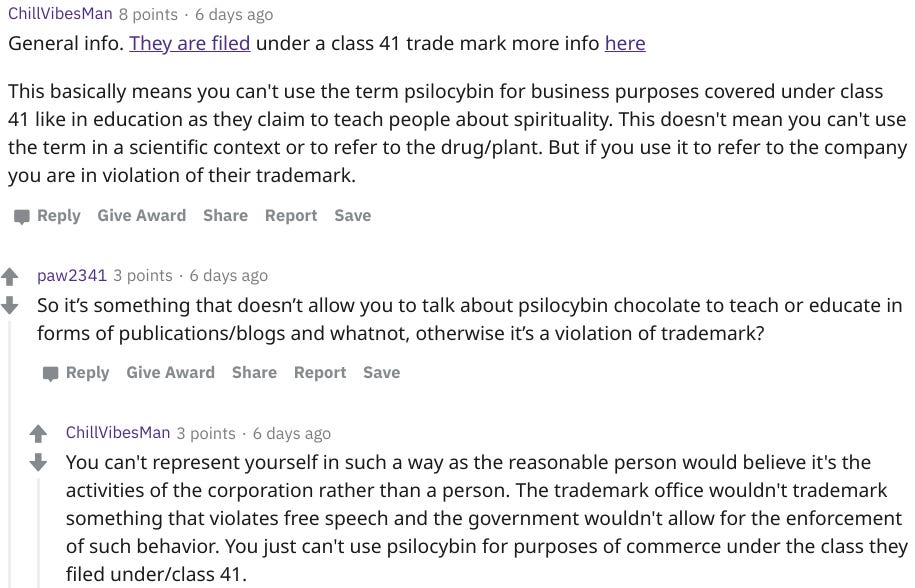 And some clarification from Ravin herself: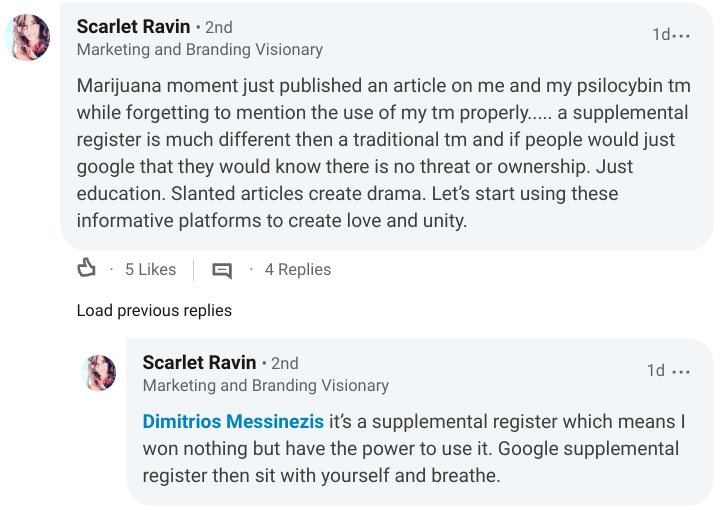 What a time to be alive.
Power Dynamics in Spiritual Communities
A problem for the psychedelic retreat industry and the mainstreaming of psychedelic-assisted therapy is the age-old problem that other spiritual and religious communities, and really any hierarchical organization or community face: power dynamics.
A recent BBC piece told one woman's story and the complex issue in Peruvian Ayahuasca tourism.
Experiences of sexual abuse seem to be widespread in this world. We've heard numerous allegations against numerous healers and read many testimonies of sexual abuse on online forums.

One name that comes up repeatedly is Guillermo Arévalo, a well-known healer who's been honoured by the Peruvian Congress for his work on sustainable development.
This is a particularly difficult problem in healing communities or therapeutic relationships which require trust and fidelity.
It is painfully sardonic to be sexually assaulted at the hands of the healer who you have sought out to help you resolve the residue of sexual assault.
"And also this weird co-dependent relationship for me where the medicine was helping me so I didn't want to speak up because I was afraid I would be ostracised from the community and then I would be kind of cut off from the medicine."
MAPS uses a co-therapist strategy that reduces the likelihood of such a dynamic. But of course, the trade-off is that this presumably doubles the cost of treatment.
One of the future issues I see coming is captured in the Charles Bukowski line:
"The problem with the world is that the intelligent people are full of doubts, while the stupid ones are full of confidence."
We're going to see an influx of people seeking to be shamans, guides, therapists and I am not sure how to convey the gravity of such a responsibility—this to me is the true need for training.
Luckily, Chacruna is here to offer guidance: Ayahuasca Community Guide for the Awareness of Sexual Abuse
More news from the land of psychedelia:
Rep. Earl Blumenauer (D-OR), who has spent decades advocating for the legalization of marijuana, said he's in favor of the proposed Psilocybin Services Act, which would allow adults to visit licensed facilities to have the psychedelic administered in a medically supervised environment.
We may see another country where psychedelic entrepreneurs could flock to get started on their retreats, cultivation facilities and more
"Czech opposition MP Tomáš Vymazal plans to propose a breakthrough legislation this year that would not only legalise marijuana for recreational purposes but also enable doctors to prescribe psychotropic hallucinogens such as LSD, MDMA (ecstasy) and psilocybin, daily Hospodarske noviny (HN) writes today."
And yes, The Czech Pirate Party is a legit political party in the Czech Republic, of course, it's the party to introduce psychedelic legalization.

"My sense of self has always felt like a robust, unshakeable part of my existence, so it came as something of a shock to have it temporarily obliterated.
Gwenyth's Goop
& the baby and the bathwater
The last week or so my Google Alerts for 'psychedelics' has included a number of articles about Gwenyth Paltrow's new Netflix show's mention of psychedelics.
I finally took the bait since STAT News deemed it worthy of writing about.
"The Healing Trip" takes Goop employees to Jamaica to do mushrooms. I knew little about the medical use of psychedelics before watching this episode, and ended up knowing very little about it afterward." 
Everyone knows the baby and the bathwater parable and the lesson of don't throw away the good on account of the bad.
Psychedelics are going to face the baby & bathwater problem on two fronts:
Overzealous proponents who promote psychedelics as panaceas

Prohibitionists who highlight the risks and dangers.
Not sure how to solve this particular hurdle, if it, in fact, needs solving.
---
That's all folks, thanks for reading.