Discover more from The Trip Report by Beckley Waves
on the business, policy and science of psychedelics
Over 5,000 subscribers
MAPS on Commercialization; MindMed: Bad Trip? No Problem; DecrimNatureDC Has the Data and a Plan
Happy Earth Day Good People, and welcome to The Trip Report for April 22nd, 2020.
I thought I was going to struggle with this report because this week my Google Alerts stopped working.
It's kind of a funny story.
I got an email from an unknown sender that included my password in the subject line 😳.
You could imagine how freaked out I was!
Then I read the email.
Unless I forked over $1000 bitcoin, every one of my contacts was going to receive a video (recorded from my computer camera) of me poaching my own egg 😳 😳 😳.
"Well, this is not chill," I thought.
So first I changed my email password. Then I did some research.
Apparently, this is a well-known scam, and the gentleman who emailed me does not have the footage he claims to have.
Plus, come on…
This is all to say the password change disrupted the flow of Psychedelic related Google Alerts to my inbox.
But it doesn't matter because the news of the week all dropped yesterday!
Today we're covering:
MindMed's LSD Neutralizer (I wish we had a DEA neutralizer)

MAPS Quarterly Bulletin Special Edition: Commercialization and Access

DecriminalizeNatureDC's ballot initiative would pass if the vote were today
Let's roll.
MindMed Develops Harm Reduction Tool
In a twist of irony that can only come from the emerging psychedelic world, MindMed unveils a research program of an "LSD neutralizer" that they hope can be used to end bad trips.
"Mind Medicine (MindMed) Inc. (NEO: MMED OTCQB: MMEDF), in collaboration with University Hospital Basel's Liechti Laboratory, has discovered and filed a patent application in the United States (preserving all worldwide rights) for a neutralizer technology intended to shorten and stop the effects of an LSD trip during a therapy session. This discovery, when further developed, may act as the 'off-switch' to an LSD trip."
There are no bad trips, only challenging trips
A critical psychedelic insight is that lessons are learned, trauma uprooted, nervous systems reset, and glimpses obtained through challenging psychedelic experiences.
Facing our fears, our past, our demons is where we learn grace, surrender, connection, forgiveness.
I anticipate the pushback against MindMed from certain factions of the psychedelic space for this reason.
Two thoughts.
First, even though MindMed cites therapy sessions specifically, this feels like a harm reduction tool that would be well appreciated by Emergency Room and Music Festival staff.
Second, the assurance of stopping a negative experience will open up psychedelic-assisted therapies to people who may not feel comfortable and have not fully bought into the idea of ego dissolution as a remedy— to most people, it is downright terrifying.
In the next section, we're going to look at MAPS' Spring Bulletin dedicated to the Commercialization and Access of psychedelics. Sage Institute is featured as a model for promoting access to psychedelic therapy to underserved communities.
It is a sad fact that minority communities bare a disproportionate share of violence, abuse, trauma. It is also a sad fact that these communities have come to distrust conventional medicine, scientific research, and whitewashed spiritual practices.
Offering such patients the reassurance that they can pull the chord and come down strikes me as a tool to extend psychedelic-assisted therapy into these communities compassionately and respectfully.
Through integration and support, I wonder how such an intervention would affect long term outcomes— would people be more or less inclined to come back for another session?
After all, the refusal of the call is only the second part of the Hero's Journey, not the end.
MAPS Spring Bulletin: Special Edition Commercialization and Access
Moses handed down the 10 commandments (15 if you're a Mel Brooks fan) and MAPS hands down the 2020 Spring Bulletin Special Edition: Commercialization and Access.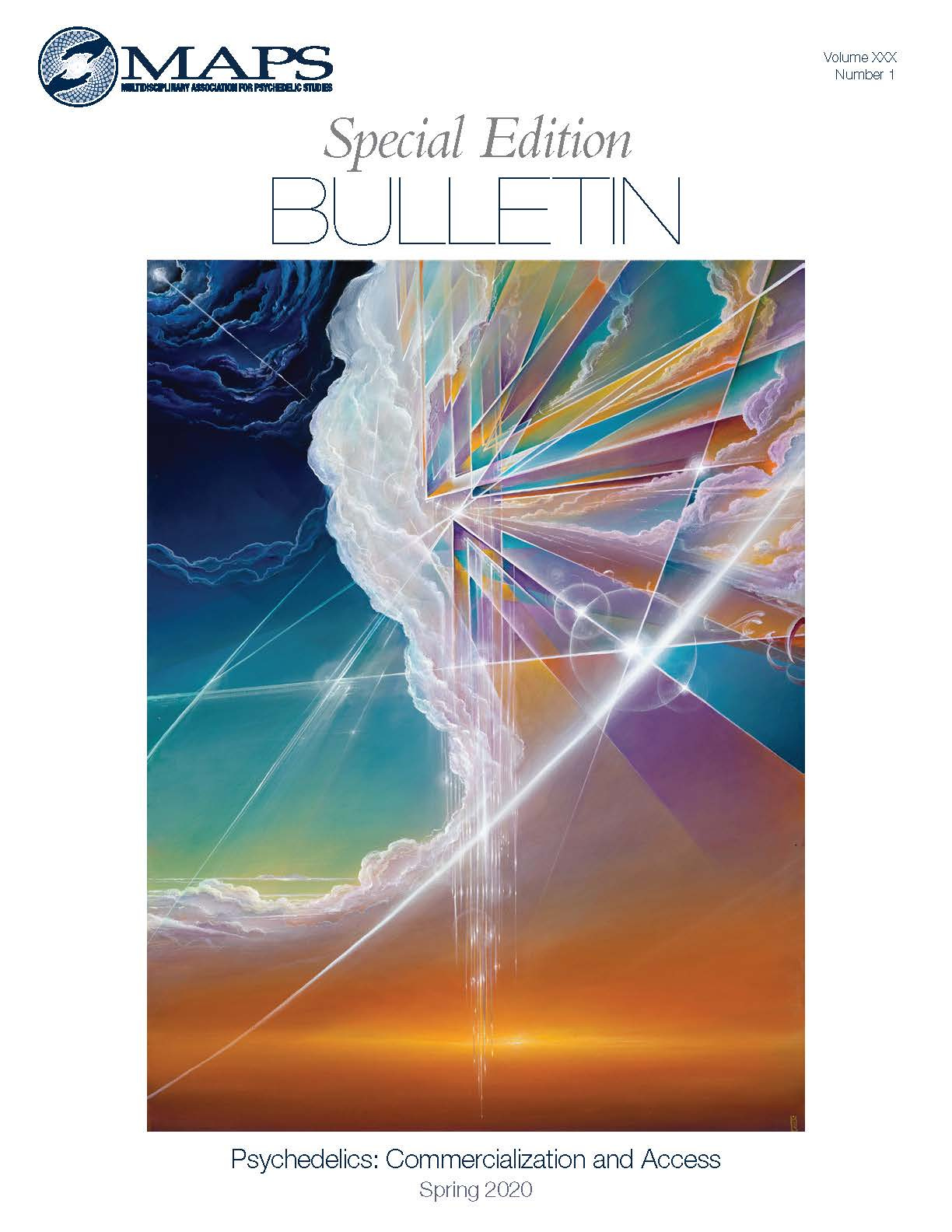 I've only read a few articles, but these are certainly worthy of your attention.
And of course this: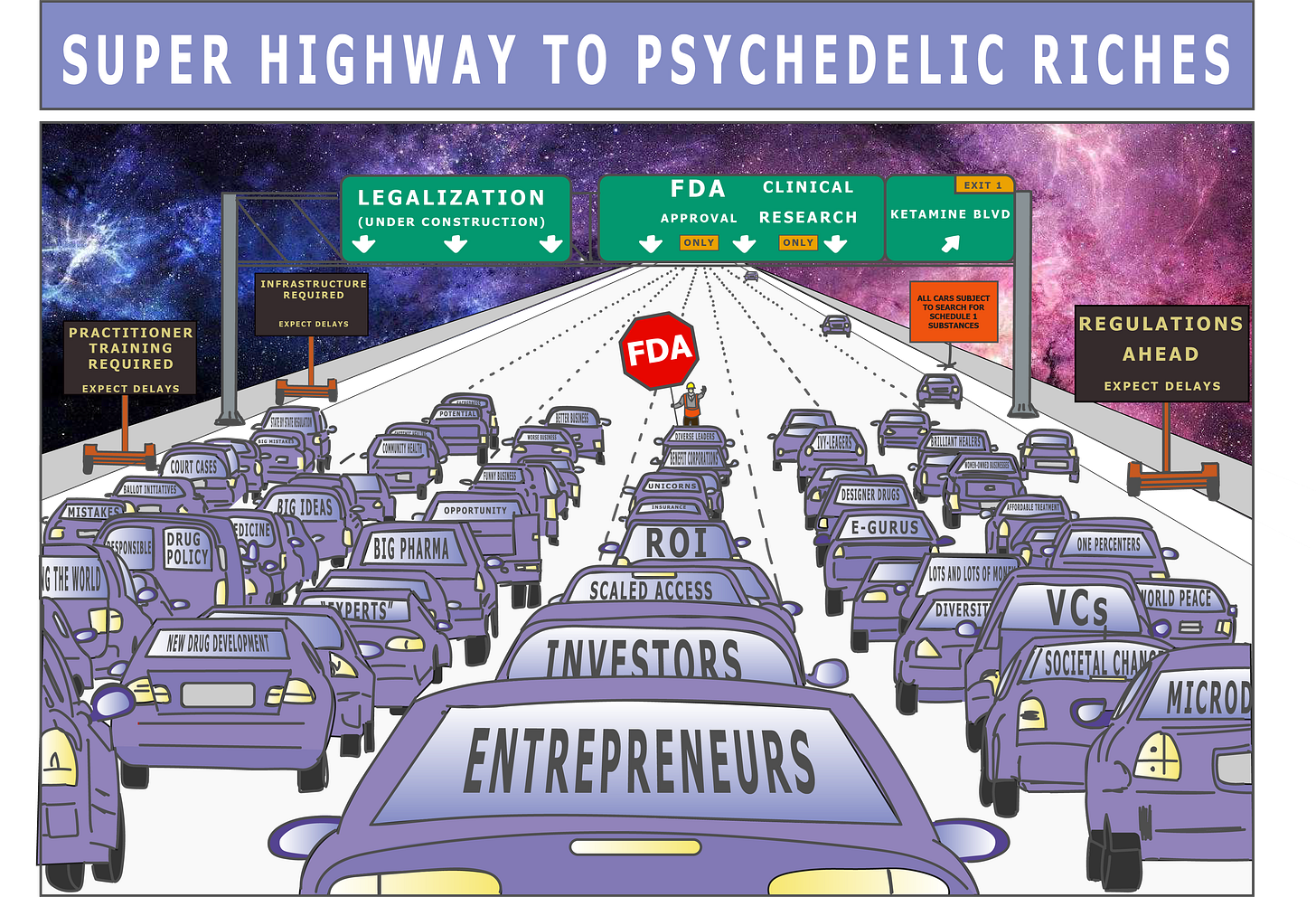 Epic.
This is the main event as far as I am concerned.
What does it mean to be involved and moving the psychedelic ecosystem through this phase of transition?
We'll be doubling back on this edition of the MAPS Bulletin for years to come.
A few highlights.
Rick Doblin:
"All these articles and approaches have in common the understanding that simply providing legal access to psychedelics is insufficient to ensure the maximization of positive outcomes and the minimization of harmful outcomes. These safeguards will play a key role in whether this new move to commercialization and access will result in further mainstreaming, or in a backlash similar to what happened a half a century ago which criminalized psychedelics and shut down psychedelic research around the world."
Leslie Booher, Ismail Lourido Ali, Natalie Lyla Ginsberg:
"MAPS has also witnessed and participated in cannabis policy reform; however, after over 30 years of advocacy, numerous barriers to cannabis research and medical care continue to exist. The pursuit of profit over community welfare has generally failed to create the proper incentives for a socially-conscious industry. Thankfully, the longer run-up time to legal psychedelic medical access has allowed us to engage in a robust dialogue about how to create market and social incentives most likely to lead to just outcomes."
Liana Sananda Gillooly and Kat Conour:
"The field of psychedelics is rapidly expanding, with a Cambrian explosion of new entities forming to advance these powerful tools into mainstream use. Many willing hands, eager minds, and open hearts from every background are receiving the calling to serve this mission. They are drawn by the power of these medicines, the possibility to create social change, and what promises to be a massive global market."
Victoria Hale:
"Buildings, bridges, and medicines each require considerable time, money, technical expertise, and regulatory engagement. The finest buildings provide comfort and protection with elegance, for decades or centuries. Likewise, medicines that are strategically developed with thoughtful consideration and anticipation of future use can be highly valued and enduring. Consider penicillin, insulin, or the polio vaccine. The intention and hope of the psychedelic community is for the investigational psychedelic medicines currently under development to eventually offer a similar legacy of benefit to humanity."
DecrimNature DC: What Could Have Been— Still Could Be
I spoke with Seth Rosenberg of DecrimNature DC fame today about the recent survey they commissioned, indicating that DC residents would probably approve decriminalization measures if it were on the ballot today.
"According to new polling results released today by the Campaign to Decriminalize Nature DC (DNDC), Initiative 81, the "Entheogenic Plant and Fungus Policy Act of 2020," has enough support to pass in the District of Columbia.

The poll sponsored by the New Approach PAC and conducted by the polling firm FM3 Research, clearly shows that a majority of DC voters support Initiative 81, a measure that would make enforcement of existing restrictions on entheogens among the Metropolitan Police Department's lowest law enforcement priorities. Of those polled, 51% support the initiative based on the text of the measure alone. When presented with a plain-language explanation, that support grows to 60% and continues to increase and solidify as voters learn more."
But Initiative 81 is not on the ballot today.
And it may not be on the ballot in November.
DecrimDC has been one of the more visible decrim efforts in the nation throughout the COVID-19 crisis. Perhaps its because they are in the nation's capital where democracy, and maintaining a democracy is at the top of people's minds.
"To preserve ballot access during this public health emergency, DNDC has requested that the DC Board of Elections and DC Council find alternatives to the in-person petition process. Time is running out for DNDC to qualify for the November ballot with 30,000 signatures needed by Monday, July 6th."
"What are we supposed to do, stop being a democracy?" Rosenberg told me.
Lucid.News
Launches with a Bang

Lucid.news "provides informed, honest and transparent journalism that covers the growing integration of psychedelics into society and their broad implications for human wellness."
Launched a few weeks ago by longtime psychonauts, journalists and writers.
Ann Harrison came out of the gates hot with the first of a three-part series on Patents, IP, and the growing pains psychedelic pharma faces in bringing products to market that have been in use for thousands of years.
"In this first part of a 3-part series, Lucid News asks chemists, intellectual property attorneys, and research organizations to consider some of the central issues underlying the development of psilocybin-based therapies for depression. These business strategies and patent disputes reflect the challenges that other researchers may encounter as they develop psychedelic-based therapies in the years to come." 
Upcoming Events & Opportunities