Discover more from The Trip Report by Beckley Waves
on the business, policy and science of psychedelics
Over 5,000 subscribers
Mayor Pete goes full send; MDMA's PR problem; Caribbean Shroom Boom continues; ATAI goes nasal; STAT News & Bloomberg get Psychedelic
Busy week in the land of psychedelia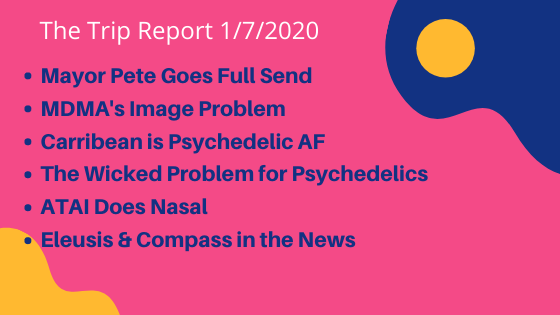 Welcome to The Trip Report, a newsletter for the builders of the emerging psychedelic ecosystem on the business, policy, and impact of psychedelics.
For new readers, welcome to this quickly growing community of psychedelic stakeholders— if you have any questions, suggestions or feedback just hit respond or shoot an email to thetripreport@protonmail.com
If you're enjoying The Trip Report, please share it with your friends, colleagues, and dealers on Linkedin, Twitter, by email, etc.
---
"When the going gets weird, the weird go pro" — Hunter S. Thompson
---
Mayor Pete Wants to Decriminalize ALL Drugs
When a presidential candidate makes a case for full decriminalization, it means two things:
The idea that 'the war on drugs' has been an abysmal failure for human rights/mental health/cognitive freedom is seeping into parts of society that include 'everyday folks,' soccer moms, and country club members—not just psychonauts, stoners and libertarians.

The guy has balls— I am not sure voters can grok with decriminalization argument. He should expect an emotionally laced, bad-faith attack from Joe Biden that will highlight drug deaths, addiction and dismiss facts and nuance to make Mayor Pete look dangerous to voters. Mayor Pete will have to go from defending Wine Caves to defending Crack Houses.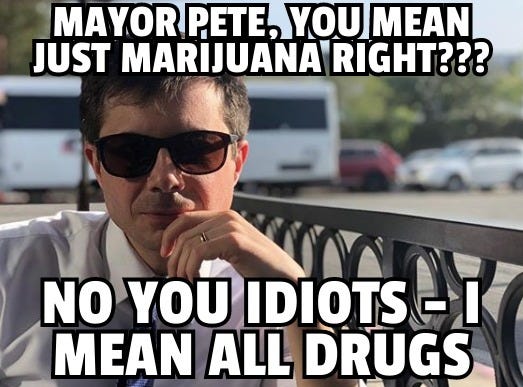 "I would not have said even five years ago what I believe now, which is that incarceration should not even be a response to drug possession.

But what I've seen is—while there continue to be all kinds of harms associated with drug possession and use—it's also the case that we have created, in an effort to deal with what amounts to a public health problem, we have created a bigger problem, a justice problem, and its own form of a health problem, if you think about the impact on a child.

We have kids in South Bend who have grown up with the incarceration of a parent as one of their first experiences. That makes them dramatically more likely to have an encounter with the criminal legal system.

And so I've always been skeptical of mass incarceration but now I believe more than ever we need to take really significant steps, like ending incarceration as a response to simple possession."
Full decriminalization is part of Mayor Pete's plan to heal mental health and combat addiction.
Analysts seem to think that it is Buttigieg and Biden who are vying for moderate/centrist votes in a field of more progressive democratic candidate.
This makes Mayor Pete's plan all the more ballsy and applaudable since full decriminalization is still anathema to most Americans for whom the nuance of addiction and drug use is trapped in a prohibitionist stance.
---
Caribean is Psychedelic AF
A few weeks ago Yield Growth Corp announced they had filed a patent application "to protect the invention that compounds in magic mushrooms can result in weight loss by reducing food cravings, counteracting compulsive overeating, and aiding in improving quality of diet by altering food choices."
Weird flex, but OK.
Today they announced a partnership with Acres Agricultural Canada Corp to open a research and cultivation facility in Saint Vincent and the Grenadines going by Acres Flourish Labs (SVG) Ltd. ("AF Labs"):
"The agreement contemplates that the proposed research and development of psilocybin for therapeutic use is within the purview of St. Vincent's Plant Breeders' Protection Bill, 2019 and the wider establishment of a viable and sustainable modern medicinal industry in St. Vincent and the Grenadines ("St. Vincent"). The proposing parties are aware of and keenly interested in the conducive climatic conditions as exist in Saint Vincent for the controlled cultivation of psilocybin mushrooms, coupled with the existing offshore medical academic programs which can create an ideal environment for the advancement of the necessary scientific studies in Saint Vincent."
So here is a chance for me to apologize.
I interpreted the weightloss patent application as a ploy to carve a niche in the supplement market which I called 'dubious'—it appears that I was wrong and Yield Growth/Flourish Labs does intend to pursue clinical research, citing that St. Vincent and the Grenadines is home to a number of off-shore medical schools that offer infrastructure to conduct necessary research.
You live, you learn.
---
The Trouble for MDMA: The News
I keep google news alerts for psychedelics, psilocybin, and others in order to feed the brain for things to write about. The "Psychedelics" and "Psilocybin" alerts reliably feed me information about the science, policy and press happening.
MDMA is another story.
The "MDMA" google alert is rife with stories of arrests, deaths, drug busts and other sobering news about the state of drug policy, the war on drugs and market forces and that result from prohibition.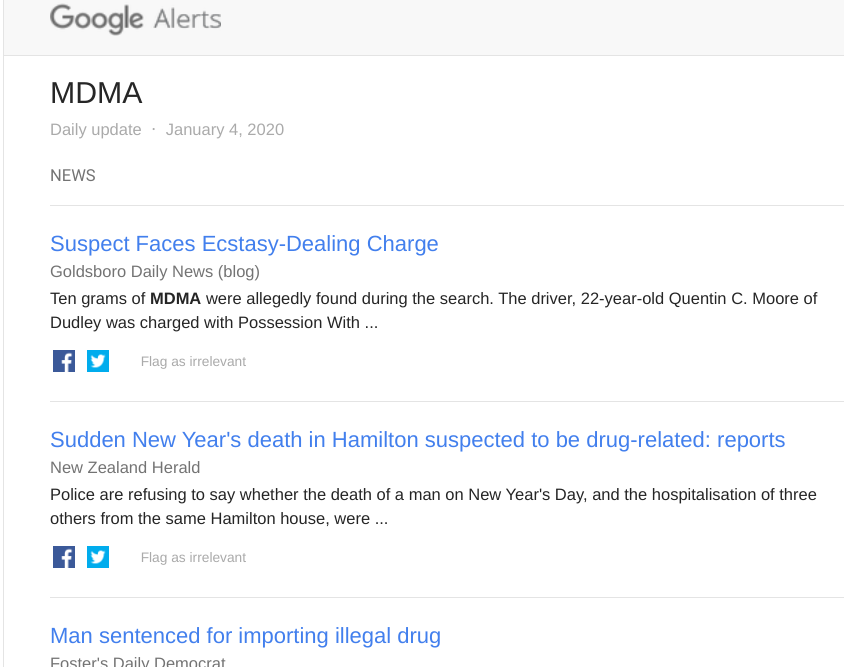 The questions that I have as we approach the last mile for MDMA to enter the landscape as a pharmaceutical for PTSD:
How does this affect the approval process?

Is this theme the reason the FDA backed away from a larger Expanded Access Program?

How do we educate conservative physicians, patients, and parents of patients that see this kind of news and question the premise?

---
ATAI gets into nose candy…no, not that kind
In a year-end Newsletter, CEO Florian Brand wrote about the company's achievements over the last 12 months and a glimpse at what's to come;
"Finally, we are thrilled to have managed to close three more "last minute" deals between Christmas and New Year's Eve. We are now working to onboard three compounds and will share details over the next few weeks. All these compounds have the potential to significantly improve the situation for patients without effective treatment options."
Yesterday ATAI announced one of these deals to be a nasally delivered concussion treatment developed by the aptly named Neuronasal.
"Pennsylvania-based Neuronasal is working on a treatment that can be given after a patient suffers brain trauma to stop a chain of processes, including inflammation and bleeding in the brain, that leads to concussion symptoms. In addition to short-term symptoms like headache, nausea and anxiety, concussions can also cause long-term effects, such as cognitive impairment and depression. ATAI is investing an undisclosed amount into Neuronasal to bankroll its work."
Neuronasal's compound is not based on psychedelic molecules but rather the commonly used "N-acetylcysteine, or NAC, a precursor of the amino acid cysteine that has been used for decades to treat other ailments." The intranasal delivery method is thought to reduce the dosage required in order to pass the blood-brain barrier.
---
The
Wicked Problem
In a podcast discussing the principals of design thinking, I learned about the difference between Wicked Problems vs Tame Problems.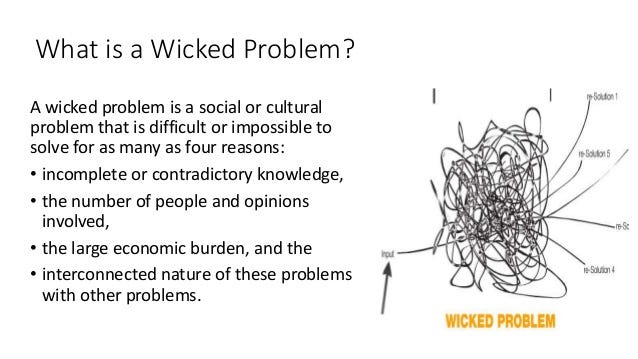 I immediately thought of the challenges ahead for the emerging psychedelic ecosystem.
Incomplete or Contradictory Knowledge? Check

The number of people and opinions involved? QUADRUPLE CHECK

Large economic burden? Check

Interconnected nature of these problems with other problems? Check

---
South Carolina gets Psychedelic Research Center
"The Medical University of South Carolina (MUSC) is preparing to launch a new psychedelic research center with a sizable endowment, sources familiar with the situation tell this news outlet. The project will reportedly be a collaboration between the school and the Multidisciplinary Association for Psychedelic Studies (MAPS), a group which exists to develop "medical, legal, and cultural contexts for people to benefit from the careful uses of psychedelics and marijuana."
---
Psychedelics featured in STAT News and Bloomberg
What I learned:
COMPASS seeks to create a process and methodology in addition to the development of psilocybin-as-a-pharmaceutical. It appears they are doing what I have wondered if they would do, namely, create an integrated model that can be franchised— perhaps franchise isn't the right word but licensed?
"Our goal is to develop psilocybin therapy—the preparation, the support for the actual dosing, the medicine, and the follow-up," said Goldsmith, a lanky, bespectacled sixtysomething former executive coach. "And then other ­clinics and so forth will buy and deliver that."
FDA consultant reveals it is a matter of time not a matter of "if" psychedelics become approved medicines.
"There's nothing else on the market like it," says Walter Dunn, a professor of clinical psychiatry at the University of California at Los Angeles, who advises the FDA on drugs that affect the brain. "Nothing previously approved where you require someone to stay in a room with a patient for six hours to help them ­process a psychedelic experience." Dunn says he expects the treatment eventually will be approved. 
"What I'm referring to is a serendipitous discovery arising from this renaissance of research showing that psychedelics could someday be transformed into anti-inflammatory and antidepressant medicines devoid, at clinically relevant dose levels, of their distinctive effects on perception, cognition, mood, and more."
After listing the efforts at Johns Hopkins to study the effects of the psychedelic qualities of psilocybin and LSD for spiritual purposes and as agents to treat depression, Raz makes a surprising claim:
"These high-profile research findings have obscured the primary traditional use of these medicines — as imperceptible anti-inflammatory agents."
He cites a quote from the Indiana Jones-esque and co-author of Plants of the Gods: Their Sacred, Healing, and Hallucinogenic Powers Richard Evans Schultes:
the use of low-dose peyote was "centered around the therapeutic and stimulating properties of the plant and not around its vision-producing properties…Some of the ills listed as responding to peyote were tuberculosis, pneumonia, scarlet fever, intestinal ills, diabetes, rheumatic pains, colds, grippe, fevers, and venereal diseases…It is used as a white man uses aspirin."
The common refrain from the psychedelic community, who have long wished to convince regulators and legislature of the idiocy of prohibition, has been that the long history of the traditional use of psychedelics has been for spiritual and mystical exploration, ie the full dose.
Raz's claim that traditional cultures' primary use of peyote in low-doses is probably defensible but also aligns with his incentives.
---
We're in the midst of a revolution in consciousness, medicine, and health.
The transition, already underway, from underground, illegal and sacred to commercialized, legal and profane is fascinating, scary, and hopeful.
If you're as fascinated by this transition as we are, The Trip Report has you covered.
You can sign up here to have future dispatches sent directly to your inbox:
Comments, questions, tips? Send me a note - thetripreport@protonmail.com
Written and toiled over by Zachary Haigney