Discover more from The Trip Report by Beckley Waves
on the business, policy and science of psychedelics
Over 5,000 subscribers
MindMed's Ark; AYA Defense Fund; Set & Setting Study; COVID-19 Updates
Jesus Christ, what a week.
I hope you and your loved ones are safe and taking care of each other.
Here's what we got today:
MindMed Builds an Ark

Ayahuasca Defense Fund

Set and Setting Study (not a 'psychedelics are just placebo' study)

COVID-19 Updates
Business
A common misconception is that the emerging psychedelic sector is weed 2.0.
We've covered why that isn't the case before, but that doesn't mean the media reliably makes that distinction or that investors who are keen not to miss out on the Mushrush will either.
MindMed sought to allay fears amidst the global pandemic and a falling stock price with a public letter to shareholders and others.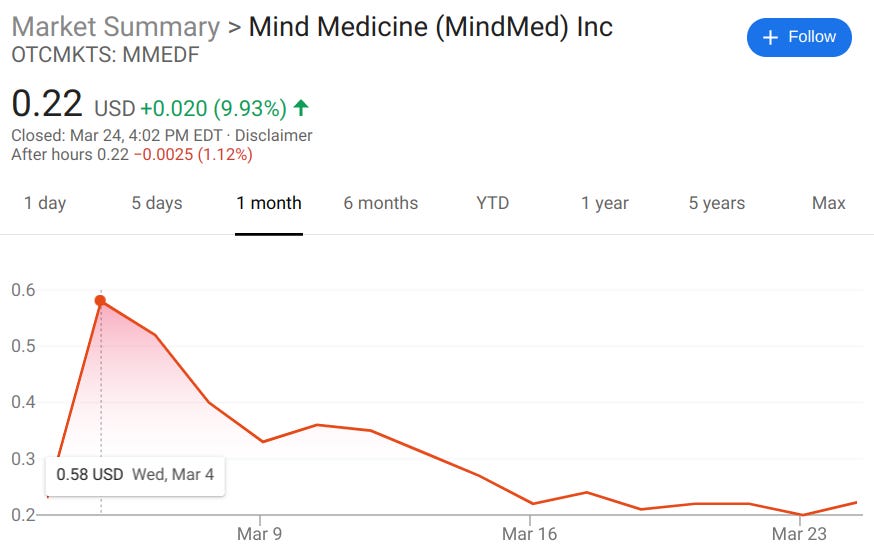 As the "first psychedelic stock," many are looking at them as a bellwether for how other companies might perform after going public.
Keep in mind that cannabis is a consumer product/commodity with the supply chain and brand differentiation as competitive advantages.
Psychedelics, at least at this stage for MindMed, are medicines to be prescribed to patients. This requires research, regulation strategies, and time—way more time than cannabis investors might be used to.
Differentiation comes from technology/intellectual property, not brand/supply chain.
Psychedelic stocks are meant to be held.
So it makes sense that MindMed deemed it essential to update shareholders.
Warren Buffet says, "Predicting rain doesn't count, building the ark does." At MindMed, we have built an ark. Inside that ark are some of the finest scientists, drug development experts, medical professionals and investors in the psychedelic medicine space.

MindMed has strong assets, IP, and an exceptionally experienced management team supported by a staff with deep knowledge in navigating hard to solve problems. Everyone, safely, continues to execute our planned activities. Our team, and our obsession over patients' needs, will ensure we build a large and sustainable business.
Policy
We cover the major decriminalize/legalize policy initiatives regularly. However, I wanted to highlight a group that has just achieved a fundraising milestone and direct readers to support their work. (yes, I wish I knew about the effort before they succeeded, but you can still contribute)
Free The Plants, Free The People
Ayahuasca Defense Fund is an ICEERS (The International Center for Ethnobotanical Education, Research, and Service) project that recently reached its fundraising goal — But you can still contribute here.
The ICEERS Ayahuasca Defense Fund (ADF) helps people who have been arrested by uniting state-of-the-art legal, scientific, community, and public policy expertise. In addition to providing educational information to prevent legal incidents, we promote best practices and sensible policy that respects indigenous cultural heritage and human rights.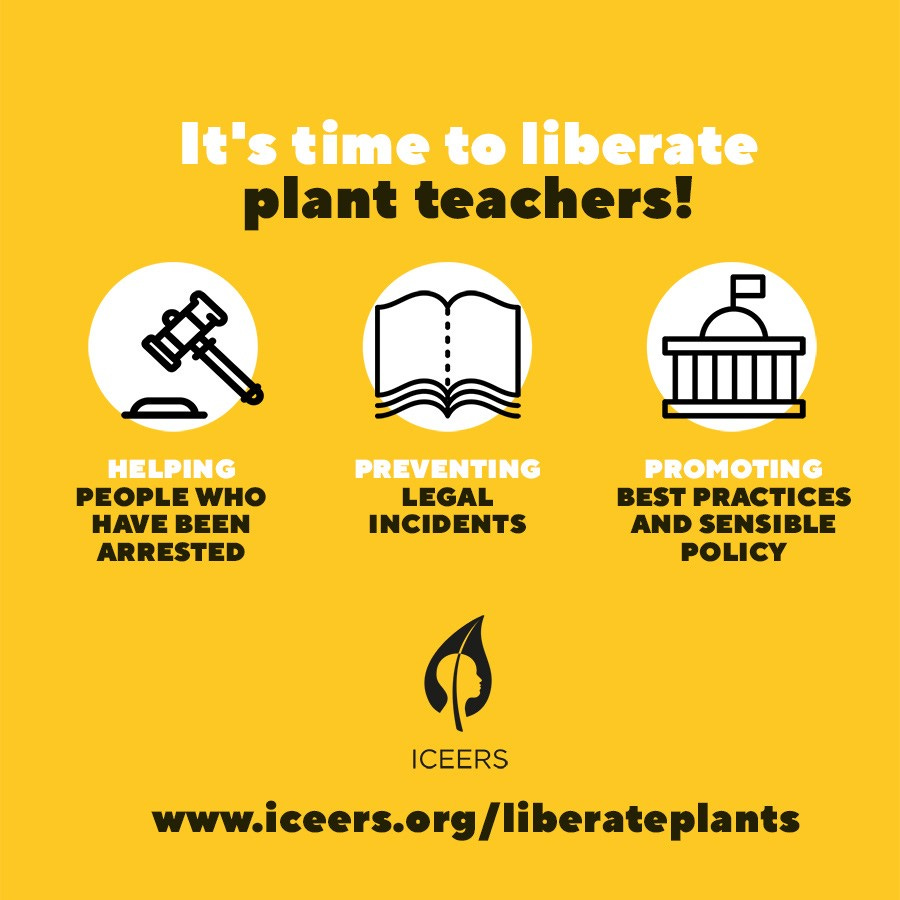 Even with decriminalization efforts achieving success in the first stage, don't start marketing guided trips, therapy, or ceremonies as you might sound baths or breathwork classes (just market sound baths and breathwork with a 😉).
There is still a legal risk at state and federal levels. It would be painfully ironic to see someone prosecuted at the state or federal level and spend time in prison as legislation and access steadily eases restrictions.
Growing Pains
Do we even need drugs?
Today someone told me about a company developing a system that brings on a psychedelic trip through Virtual Reality. This company is going to be rolling out there product pretty soon, I'm told.
I've said it before, and I'll say it again, what a time to be alive.
Vice brought attention to this study from McGill University in Researchers Got People to Hallucinate From Fake Psychedelics.
It's a bit of a misleading headline.
The study was meant to evaluate the impact of set and setting in people who believed they were doing psychedelic for the first time "in a naturalistic environment resembling a typical psychedelic party."
From the researchers:
The 4-h study took place in a group setting with music, paintings, coloured lights, and visual projections. Participants consumed a placebo that we described as a drug resembling psilocybin, which is found in psychedelic mushrooms. To boost expectations, confederates subtly acted out the stated effects of the drug and participants were led to believe that there was no placebo control group.
The study should be interpreted as further evidence for the importance of set and setting rather than a dismissal of psychedelic substances. These were "treatment-naive" subjects exposed to a "typical psychedelic party" after all.
"Just doling out a psilocybin capsule in "a sterile, fluorescent-lit clinic, with an uncaring practitioner who treats you coldly" might not lead to the best outcomes."
COVID-19
It would be weird to not cover the effect of COVID-19 on an ongoing basis since we'll be telling our grandchildren about this time period in years to come. So when appropriate, we'll highlight the impact on the psychedelic space.
Psychedelic Liberty Summit Goes Virtual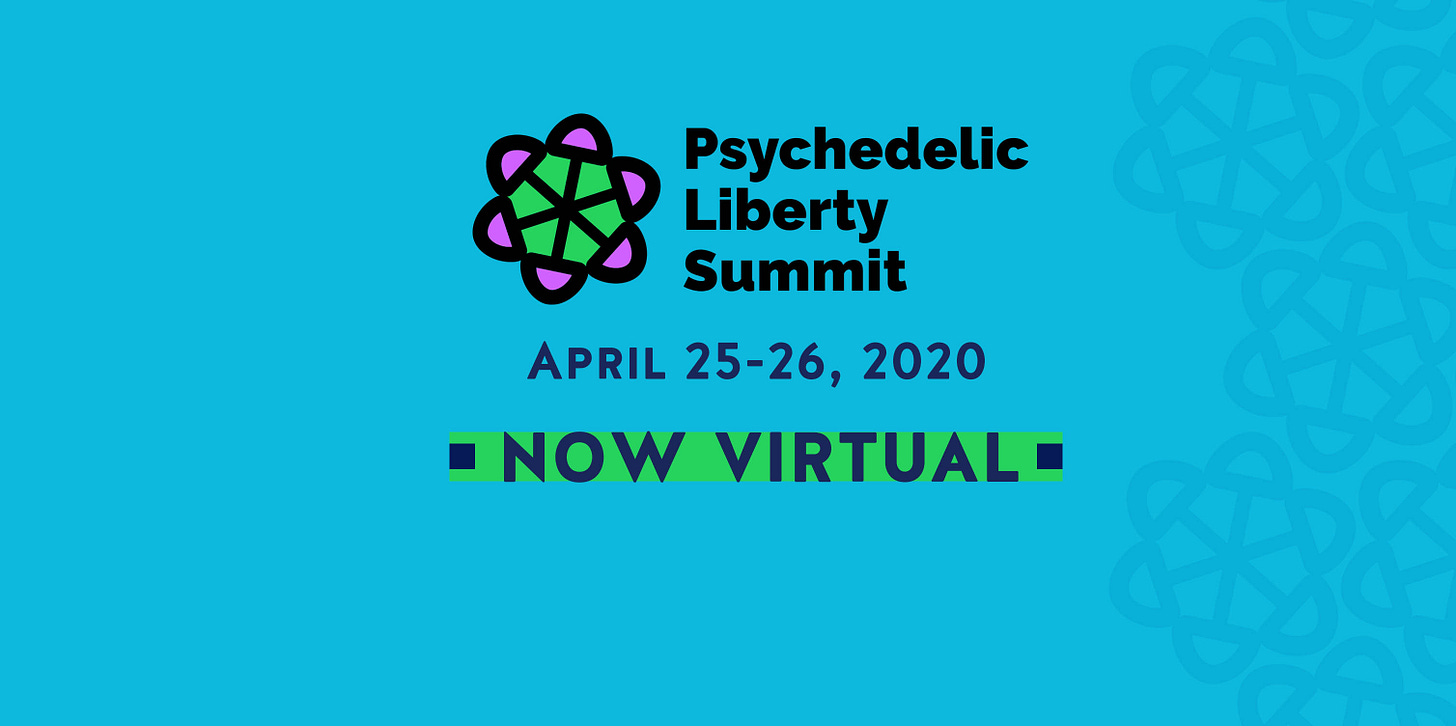 "The event will still take place on the scheduled dates of April 25th and 26th, with the majority of the speakers still confirmed and the schedule to remain mostly the same. In light of the societal crisis we are now facing, it feels more important than ever to explore these topics, and how sacred plants and psychedelics can help us envision new models for personal and collective healing and transformation."
The psychedelic industry/sector/space, whatever you want to call it is unlike any other industry/sector/space.
It's vast.
Psychedelic substances, rituals, and culture date back millennia.
The dynamics, issues, tensions, and boundaries should be understood and respected, and the Psychedelic Liberty Summit is probably one of the best places to get acquainted with the variety of positions and perspectives.
More info here.
Weed or Shrooms to Save Humanity?
I stumbled upon this LinkedIn post from entrepreneur and scientists, James Linden.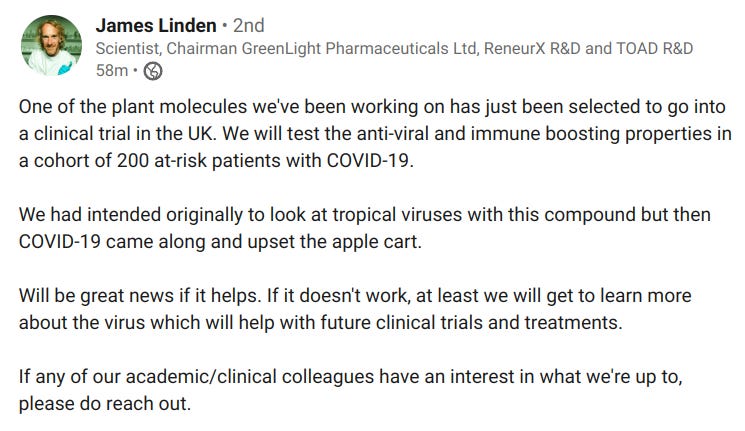 It would be very cool to see a cannabis/psychedelic based treatment for the Coronavirus. Marijuana dispensaries, along with hospitals and grocery stores, are being considered essential business services in these early days, it would be great to see cannabis proven to be essential to end the pandemic.
Need a #Quarentinehobby? Grow shrooms
Dennis McKenna's request to aid Guatemalan Community
And here it is, Your Moment of Zen: