Discover more from The Trip Report by Beckley Waves
on the business, policy and science of psychedelics
Over 5,000 subscribers
Numinus, Novamind, E.I. Foundation, Oregon Update
Some quick housekeeping before we jump in:
The campaign to raise funds for a clinical trial to evaluate Psilocybin for OCD has hit a roadblock. The payment processing service Stripe is not allowing donations to go through because 'Psilocybin' is in the fundraising description. If you know someone at Stripe that could resolve this, please reach out to them and explain the situation.
The Trip Report: an exercise in Iterative Sense-Making
Perhaps you've noticed the structure and format of these Trip Report dispatches vary from week to week. That is because I am trying to do two things:
Summarize and curate psychedelic related news

Make sense of the news and the larger themes/questions/issues/tradeoffs that the psychedelic ecosystem will routinely encounter as it expands.
The sense-making part is the most fun, interesting, and rewarding but also the most challenging. It takes time, energy and you inevitably run into the problem of 'you don't know what you don't know'. My hope for The Trip Report is that in 2, 5, 10 years' time we're collectively more informed, well versed, and understanding of the ecosystem by continuing to visit these topics regularly.
I am working on a series of taxonomic posts of themes/questions/issues/tradeoffs that I hope to share soon.
Below is a non-exhaustive list that we'll be grappling with for the foreseeable future. Please send me an email with additions.
Open Science, Patents, Data Exclusivity

Decriminalization, Deprioritization, Legalization, Medicalization (via FDA/EMA/Health Canada, etc), State-based Medicalization (ie Oregon)

Innovation and Delivery imbalance

Access and Affordability

Profit<—>Public Benefit

Changing understanding of disease causes/processes in light of psychedelic science

The interpretation, application, and role of traditional/indigenous/shamanic practices/systems

Price/quality trade-offs in therapist training, therapeutic options (a subcategory of Access and Affordability)

Blinding and control in clinical research

The interface of science and philosophy, ie Hard Problem of Consciousness, Entropic Brain Theory, etc.

Impact of Effect Size of psychedelics on clinical research
Gabor Maté joins Numinus' Clinical Advisory Council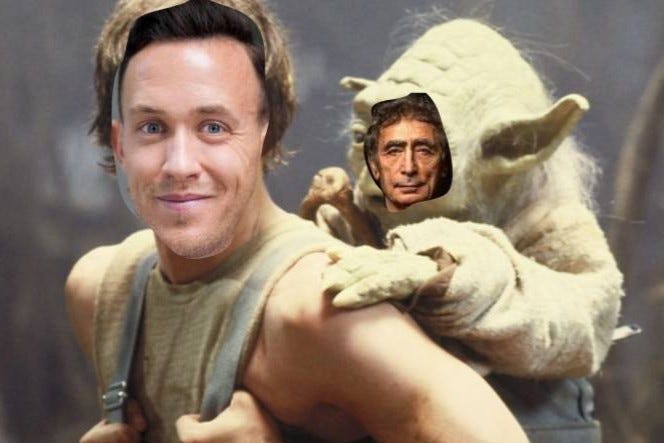 Numinus, the most recent psychedelic upstart to go public announced Gabor Maté has joined the Clinical Advisory Council.
"Through over 30 years' work in family practice, palliative care and addiction medicine, Dr. Maté has pioneered therapies and innovative, trauma-based approaches to mental health... As a Member of the Clinical Advisory Council, Dr. Maté will be a vital resource in helping Numinus develop treatments and drive policy changes within the healthcare industry. Additionally, Dr. Maté will also use his network to enhance Numinus's collaboration with other leading researchers and groups working in mental illness, addiction and trauma treatment."
This is the best signal that Numinus has put out to date about their long term intentions.
Dr. Maté's "brand" in the addiction, trauma, and psychedelic fields is invaluable. His experience as a clinician for the poor and marginalized as well as Ayahuasca retreat facilitator is truly unique. Applying this experience to the clinical day-to-day is a good indication that the Numinus clinic is taking their responsibility seriously.
And as we noted last week Numinus is planning clinical research:
"The Resulting Issuer intends to develop a framework for psychedelic therapies in a clinical test environment...The facility will be instrumental in assessing the protocols developed for treatment and will include lab space and equipment, research space, protocol testing functionality, and be able to house the R&D team."
The question this raises, not specific to Numinus or Dr. Maté, is about the relationship between therapeutic protocol development and Intellectual Property.
As a publicly-traded company with fiduciary responsibilities Numinus is tasked with optimizing returns to their shareholders and this, in theory, involves patents.
We tend to think of IP in medicine in relation to chemical compounds, manufacturing, and formulation but the unique feature of psychedelic medicine is the conjoining of a pharmaceutical agent in conjunction with therapy.
Can psychotherapeutic protocols, strategies, and frameworks be patented?
In disciplines like psychotherapy, physical therapy, massage therapy the methodologies and strategies are developed by long time practitioners and taught to students in continuing education classes. Dr. Maté is one such practitioner and his methodology is called Compassionate Inquiry.
Is it possible for Numinus with Dr. Maté's guidance to combine Compassionate Inquiry with Psilocybin for, say alcoholism, and create exclusivity or patent protection?
I suppose we'll find out.
Novamind Plans Public Offering
"Buzz Capital Inc., a capital pool company listed on the TSX Venture Exchange is pleased to announce that it has signed a letter of intent dated May 8, 2020 with Novamind Ventures Inc., an Ontario corporation, to complete a business combination by way of a transaction that will constitute a reverse takeover of Buzz Capital by Novamind."
Novamind is interesting for a few reasons.
They are investors in Synthesis, the Amsterdam retreat center, and Cedar Psychiatry a Utah based Psychotherapy clinic and boutique clinical research operator. They represent an investment thesis that runs counter to the frenzied 'pharmaceutical development is the only play' opinion touted by some.
Novamind's website also includes pictures of the team. This may not seem noteworthy but in an emerging sector with high volatility and no clear sense of which way is up it is a small but significant step indicating some skin in the game.
In last week's dispatch, we touched on the concept of boutique clinical research operation and how when it is done effectively can be a solid business and accelerate science.
"Efficient boutique clinical research operations can be good business. I used to work for one. Out of college, I was a study coordinator for Expanded Access Programs and Phase I/II trials for HIV and Hep C drugs.

Compared to academic institutions and larger private multi-site, multi-indication clinical research services we were way more efficient. We didn't run a study that we weren't the highest enrolling site, by far."
Cedar Psychiatry was founded and run by Reid Robison MD who has been a primary investigator for both MAPS' MDMA trial and Johnson & Johnson's Sparvato clinical trials. With two offices in Utah dedicated to both the practice of delivering mental/behavioral health services and running multiple clinical trials, Cedar could serve as a template to build on.
A combo platter of clinics, Clinical Research infrastructure, and retreat centers in legal jurisdictions is an approach that has legs.
Orthogonal Thinker Launches E.I. Foundation
From Benzinga:
"Ei.Ventures, subsidiary company of Orthogonal Thinker launched Ei.Foundation on Tuesday, doubling down on its commitment to equity and access in the field of psychedelics. The Ei.Foundation will provide grants and resources to community-based, grassroots organizations in the psychedelic community."
Dr. Ashley Lukens, PhD Chief Impact Officer:
"We'll be distributing funds according to the needs we see in the community. Right not we are mapping the movement to identify those communities with the capacity and commitment to education and advocacy in the psychedelic space. Too often Funders lead with funds rather than learning. Our work right now is to learn from our partners so we can be most impactful"
Signatures Submitted For Oregon Measure To Decriminalize Psilocybin
From Oregon Public Broadcasting:
"Organizers of the Psilocybin Service Initiative turned in more than 133,000 signatures, 18% more than required, to account for any duplicates or errors."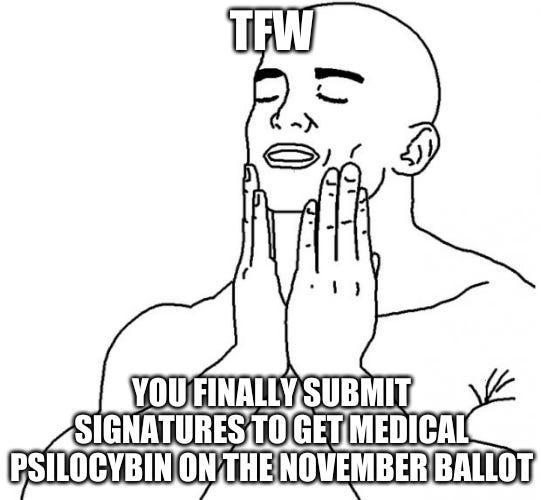 Per Marijuana Moment:
"The secretary of state's office now has until June 19 to conduct a random sample of the submitted signatures. If a sufficiently high percentage are deemed valid such that when extrapolated the overall number of submissions would exceed the minimum requirement, the measures will be certified for the ballot."
Congratulations to the Sheri, Tom, Sam, and the whole Psilocybin Services Initiative team!
Therapsil Snags another Sponsor!
"New Wave Holdings is pleased to sponsor TheraPsil, a British Columbia-based non-profit coalition that is seeking legal access to psilocybin for Canadians with a palliative diagnosis and psychological distress."
Hey! That's two sponsors in two weeks! I am waiting to hear back from contacts at Therapsil, hopefully, I'll have another update on this worthy cause next week.
Newsworthy & Noteworthy
Events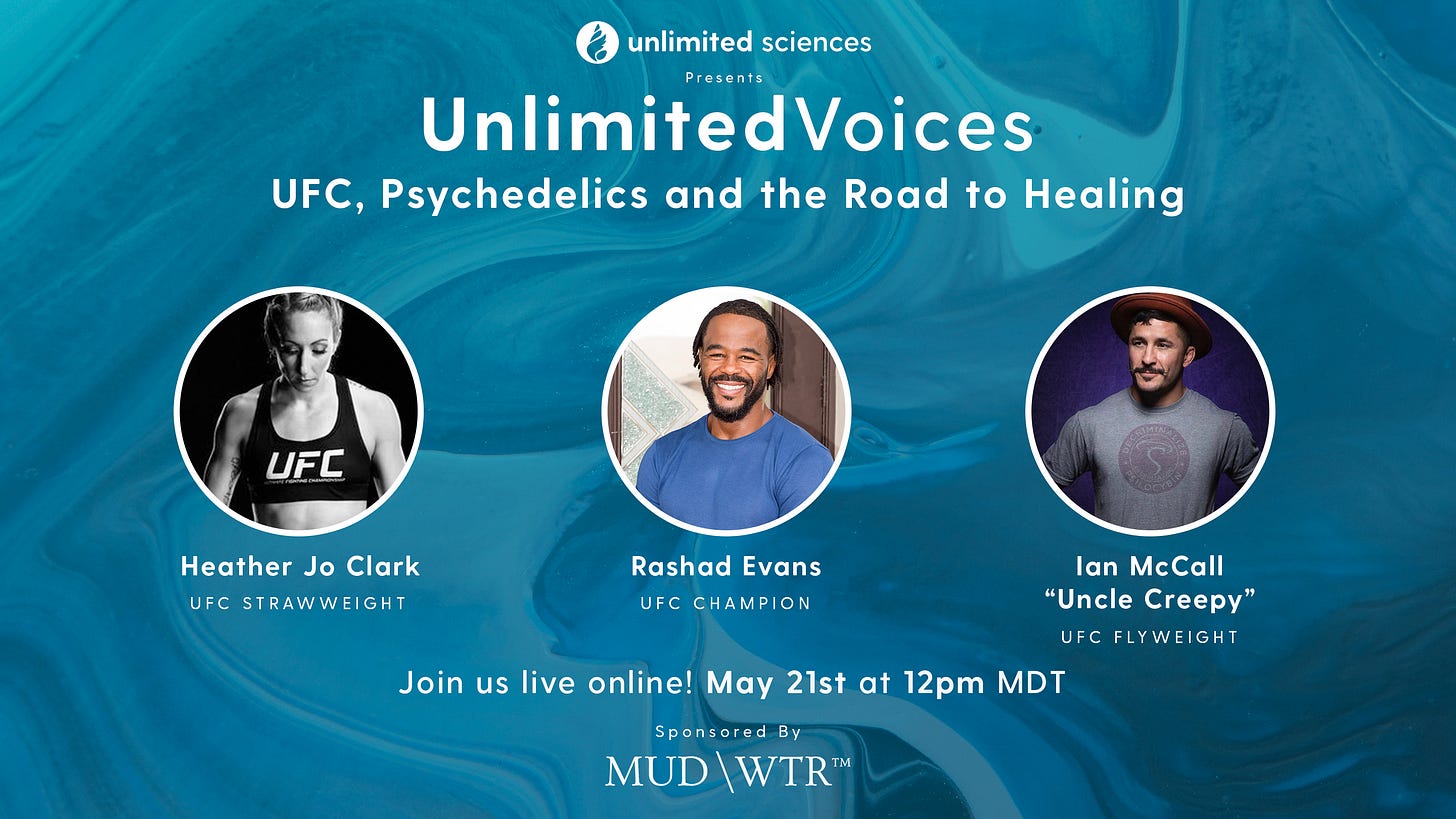 Alright folks, thank you as always for reading, subscribing, and sharing!
See you soon,
Zach