Discover more from The Trip Report by Beckley Waves
on the business, policy and science of psychedelics
Over 5,000 subscribers
Psilly gets serious; Mindset is everything; Digital Season just getting started
Today's lineup:
Virtual Psychedelic Conference Half-time highlights

Orthogonal files a patent application

Mindset is Everything

More events and gatherings
Quick notes from the Virtual Psychedelic Conference
Do you know the Big Bang?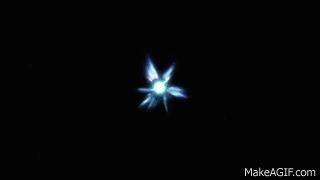 Well, the birth of the universe pales in comparison to the explosion of perspectives, opinions, and ideas from Day 1 of the Virtual Psychedelic Conference.
Technical constraints aside, it was great to connect with so many people via chat/slack while tuning in to the panel discussions.
The Henri and Richard from The Conscious Fund deserve a ton of credit for a great lineup of speakers and the wide berth of topics and discussion.
Good work, lads.
We'll do an official Trip Report Debrief in an upcoming dispatch, but for now, here are just a few nuggets that stuck out to me, and there are so many more.
Robin Carhart-Harris: Seratonin 5-HT2A receptors are most abundant in the cortex, and humans have a shit ton of cortex.

Universal Ibogaine is going public this year.

Shlomi Raz: psychedelics seem to be effective in treating everything, so how do you choose which indication to approach?

Ronan Levy: Field Trip took 18 months to determine their business model

Marik Hazan's Psychedelic Company Database Fraqtal.Space

Sam Chapman of Oregon PSI: In discussing the different legal frameworks, "Each of these models (decrim/legalization/medicalization/etc.) are needed to address the various issues that prohibition has created (social, criminal, medical), and they can fit together. But they should be running their own track (ie, they should be separate efforts and not bundled under one ballot initiative/measure)"

Jack Lloyd: "Decriminalization walks hand in hand with legalization."

João Taborda da Gama: "I don't think the community model can solve the mental health problem, I support it, but I don't think it will solve the problem… the community model and medical should coexist, and the medical model will afford universal access."

Shelby Hartman: "It's a false dichotomy; the most important thing is access to reduce suffering, medical vs. recreational is a false dichotomy."
Psilly Gets Serious
In an email from Orthogonal Thinker leadership on Tuesday, April 14th:
Aloha Orthogonal Ohana,

We are excited to announce we have completed filing a provisional application for our flagship natural product, Psilly. The provisional application is a legal document filed in the United States Patent and Trademark Office (USPTO), that establishes an early filing date.

"Filing this application allows us to move forward with expanding access to an improved version of psilocin that is not yet available on the market," - Jason Hobson, CEO of Orthogonal."

This provides us further opportunity to strengthen relationships with organizations across the world who are on the forefront of psychedelic research as we continue to seek partners aligned with our mission to provide holistic wellness solutions.

We look forward to sharing our cutting-edge technology to further therapeutic and medical innovations in healthcare.

Psilly differs from other psilocybin products in development as it consists of a proprietary formula that uses natural, rather than biosynthetic, alkaloids. Alkaloids possess psychotropic effects like psilocin and stimulant effects like caffeine.

We are also working on the development of PsillyLife, the lifestyle brand conceived to promote education and awareness surrounding the benefits of psilocybin to a worldwide audience.

All our best,
David and Jason
This is super exciting from Orthogonal, and it offers an opportunity to explore the development of what the FDA calls Botanical Drugs.
I am not sure if Psilly is a botanical or a single molecule, but regardless botanical drug development is an important area for the psychedelic space to consider.
Most of the drugs that come to market are synthetic.
If a drug is derived from a natural product, usually an active agent is isolated, extracted, and that isolated ingredient is formulated into a pill, injection, suppository, etc. The active agent may come from a natural product but the end result is created with processes, reagents, coagulants, etc. that aren't organically grown.
If Orthogonal, or anyone else, is proposing the development of a Botanical drug, then there's a different calculus for approval:
"Botanical drug products, however, are complex mixtures rather than isolates of a single molecule. These complex mixtures have the potential for synergistic activities from different components in a botanical product. There is also the possibility that the presence of multiple compounds in a botanical extract may reduce the toxicity of active constituents."
In 1984 the FDA started getting applications for new drugs that did not fit the classic synthetic, single active agent model that they were used to.
They started getting so many botanical applications that they created guidelines for applicants developing Botanical Drugs.
Most of the botanical drug candidates were for Cancer and derived from traditional uses like Chinese Medicine and Ayurveda.
Here's the problem:
The FDA doesn't approve many Botanical Drug applications:
"The United States FDA has received over 800 botanical investigational new drug applications (IND) and pre-IND meeting requests (PIND) in the years preceding 2018… Despite increasing global interest in the investigation of botanical mixtures as drug products, only two botanical new drug applications (NDA) have been approved in the U.S.: Veregen in 2006 and Fulyzaq (also known as Mytesi) in 2012. Given botanicals' chemical and biological complexity, efforts in characterizing their pharmacology, demonstrating therapeutic efficacy, and ensuring quality consistency remain scientific and regulatory challenges."
Not a great track record but here's why I think this will change for psilocybin based botanicals:
Regulators have gotten used to the folks at MAPS, Usona, COMPASS, etc. They know this shit works, they know the science. They also know how awful the options are for mental/emotional conditions, and that change is afoot.

Most of the Botanical Drug applications have been for Cancer. While the cancer community is generally more accepting of things like herbs, acupuncture, etc. the challenge of proving efficacy is too high a bar. It's one thing to be a dietary supplement it is another to be a prescription drug.

Most botanicals have been considered "naturally heterogeneous mixtures and often lack distinct active constituent(s), so more than one constituent may contribute to the overall therapeutic effect." The lack of a known "active constituent' "is a problem for regulators. A botanical with a known amount of active constituents, however, is more approachable, because most botanicals don't have an active agent and this changes the risk analysis.
Finally, unrelated to the FDA, Hawaii is seeking to follow in the footsteps of Oregon to create a therapeutic framework for natural psilocybin production and use in clinical/therapeutic settings. (The Clarity Project was just getting to their first public meetings before COVID-19. Hopefully, the isolation of Hawaii will allow them to come out of lockdown soon and resume legislation.)
Whether Psilly is, in fact, considered a botanical or not, I can't wait to learn more about it and how a natural product might navigate its way through the FDA.
Chinese Growth Mindset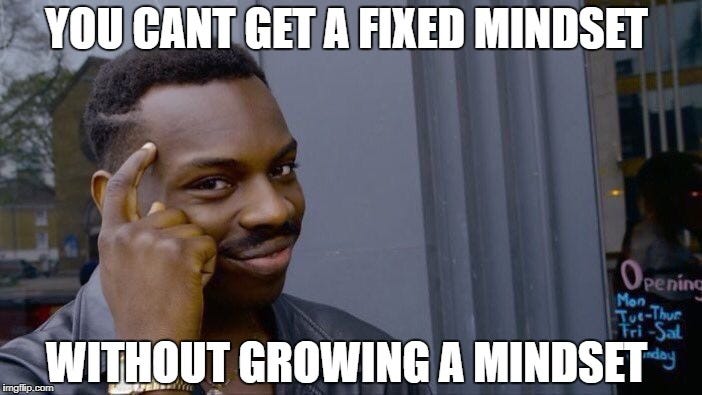 Mindset Pharma Begins Work with Leading R&D Contractor for Next-Generation Psychedelic Drugs
"Mindset Pharma is a drug discovery business, based in Toronto, Canada, focused on creating novel and patentable psychedelic compounds for the treatment of neurological and psychiatric disorders. Founded by serial entrepreneurs and domain experts in drug development and medicinal chemistry, Mindset is assembling a proprietary library of transformative psychedelic intellectual property designed to address chronic neuropsychiatric disorders efficiently and safely."
Made in China
Initial compound synthesis and in-vitro screening are being provided to Mindset by Pharmaron. Pharmaron is a premier R&D service company supporting the life science industry. Services provided by Pharmaron to Mindset are underway in China.
When a company announces partnerships, hirings, and acquisitions, they are signaling intent, fostering excitement, and encouraging investors about the prospects of the company.
Some of these announcements don't pass the sniff test—for example, statements from psychedelic companies about hand sanitizer and immune-boosting mushrooms amid COVID-19.
This doesn't appear to be one of them, but merely an odd strategy considering the assets the company has.
Weirdly, Mindset chose to announce a partnership with Pharmaron, a Chinese pharmaceutical manufacturing company.
The timing is not great.
In light of the calls for supply chains to become less dependent on China and concerns over Chinese policy as it relates to information-stealing and drug development—just ask Ben Westoff where all the fentanyl comes from—not to mention, oh I don't know, the hellscape we're living through that originated in China and the government's role in managing the spread.
It is also a less interesting feature of the Mindset story.
Through their Chief Scientific Officer, Joseph Araujo, Mindset has a valuable relationship with Intervivo Solutions, the Toronto based company specializing in translational research specifically with CNS drugs.
From the Intervivo website:
"A key approach to reducing attrition of clinical candidates due to issues with efficacy is to employ predictive pre-clinical measures, models and designs. InterVivo provides predictive animal models and endpoints that increase the chances of successfully transitioning new drugs from animal to man."
The question I have is if you had an asset like this: why would you promote the Chinese Manufacturer at a time when everyone is trying to get away from Chinese manufacturing?
I am not trying to throw shade; I'm just saying.
The Digital Events Season is Just Getting Started
Virtual Psychedelic Conference Day 2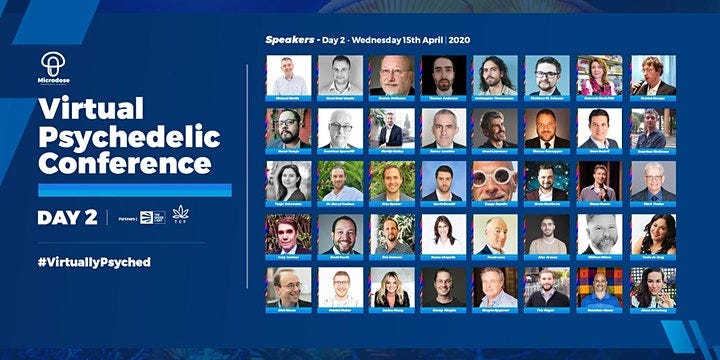 Buckle your seatbelt. It's going to be a doozy.
Digital Event: Stepping into a New Reality: Psychedelic Wisdom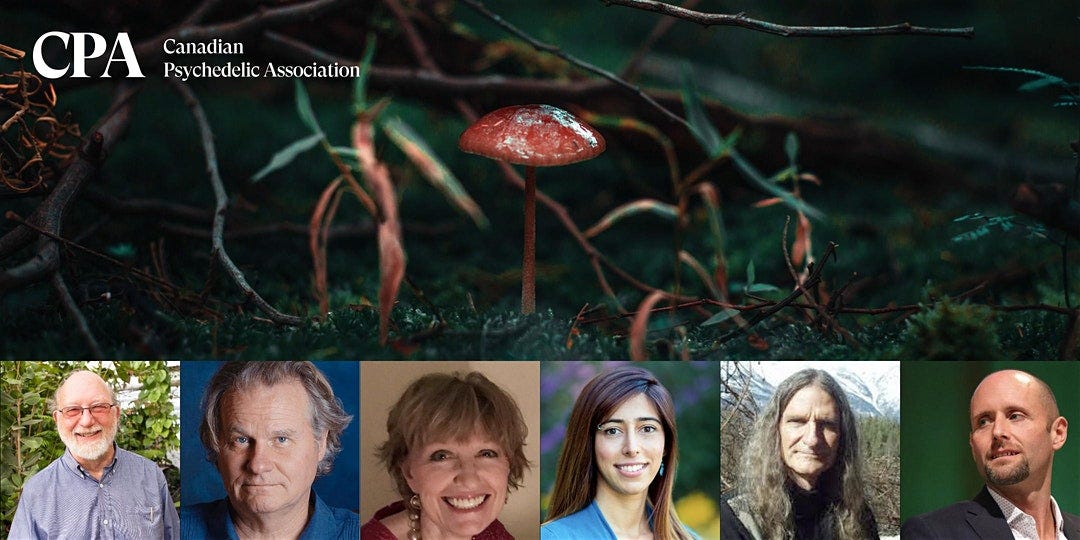 by Canadian Psychedelic Association
Trevor Millar of MAPS Canada will be hosting a digital event with Dennis Mckenna and others to discuss the wild fucking roller coaster ride that society is on and how psychedelics can offer insight and guidance.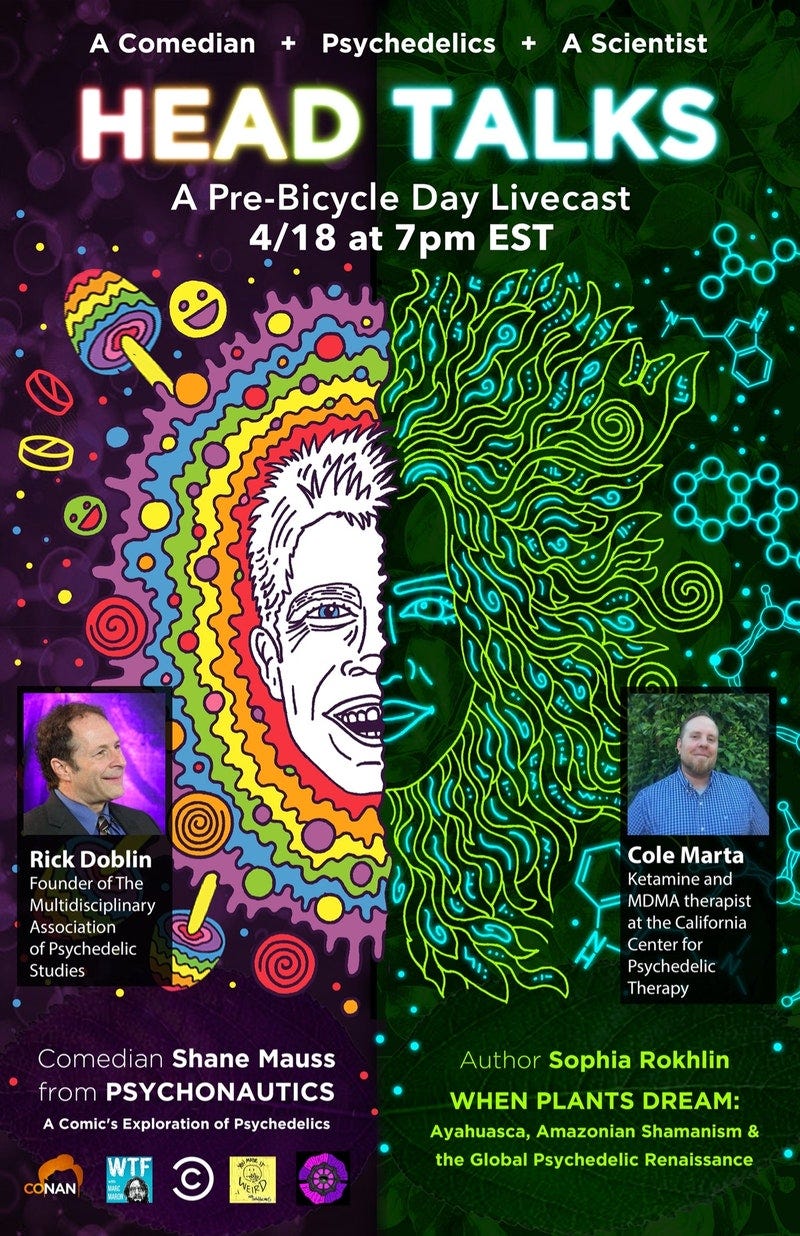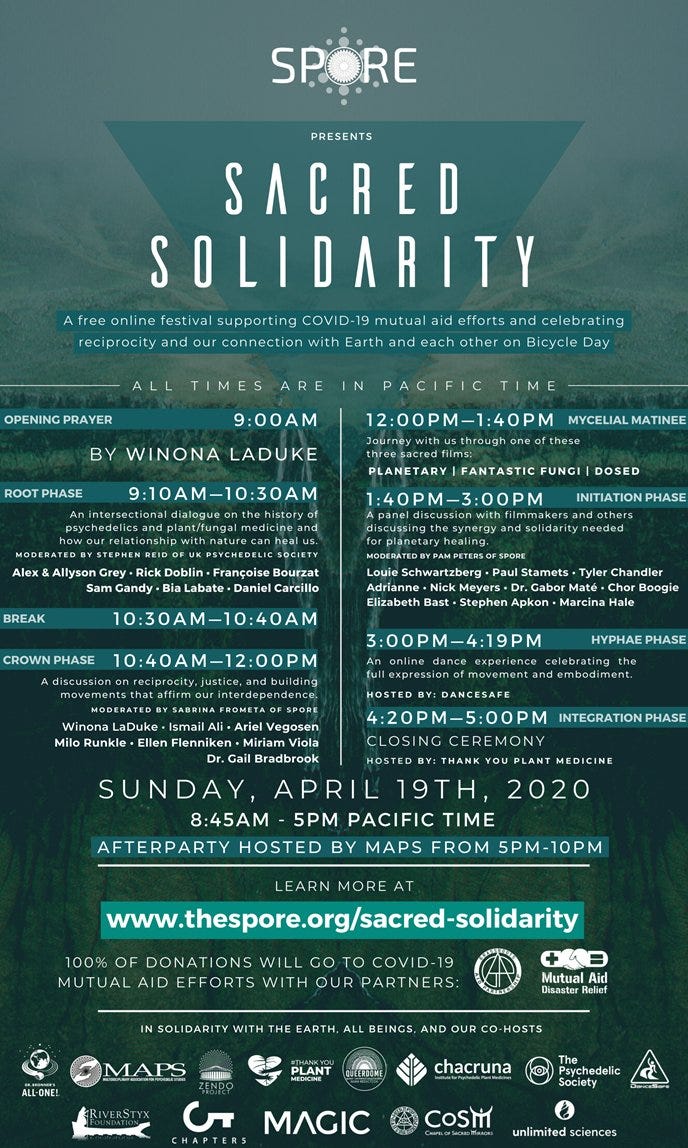 A free online festival supporting COVID-19 Mutual Aid Efforts and celebrating reciprocity and our connection with Earth and each other on Bicycle Day

SUNDAY, APRIL 19TH 2020

8:45AM - 5PM PACIFIC TIME
---
And here it is, your moment of Zen:
Want More?
The Trip Report Pro has you covered.
Don't destroy your dopamine system scrolling through Twitter, Facebook, Linkedin, Reddit, Google alerts, company websites, press releases, and the far corners of the internet searching for the latest news from the pupa of the psychedelic emergence.
Let me destroy mine on your behalf.
In addition to Wednesday's free-for-all-dispatch, you'll get The Trip Report Pro every Monday and Friday with more in-depth news and analysis from the land of psychedelia.
These are indeed wild times, and The Trip Report aims to be your Ride or Die through the changing landscape of psychedelics.
Here's the deal:
Wednesday posts will remain free and available to all

Monday and Friday posts will be subscriber-only with more in-depth and long-tail coverage of the news, events, deals, companies, policies along with analysis and commentary.

Subscriber-only community features (discussions, guest posts, AMAs, interviews, etc. coming soon)

After March 1st $15/month or $150/year