Discover more from The Trip Report by Beckley Waves
on the business, policy and science of psychedelics
Over 5,000 subscribers
Psychedelic Leaders' 2019 Reviews and 2020 Outlooks
Curated list of Reviews and Outlooks from the biggest names in psychedelia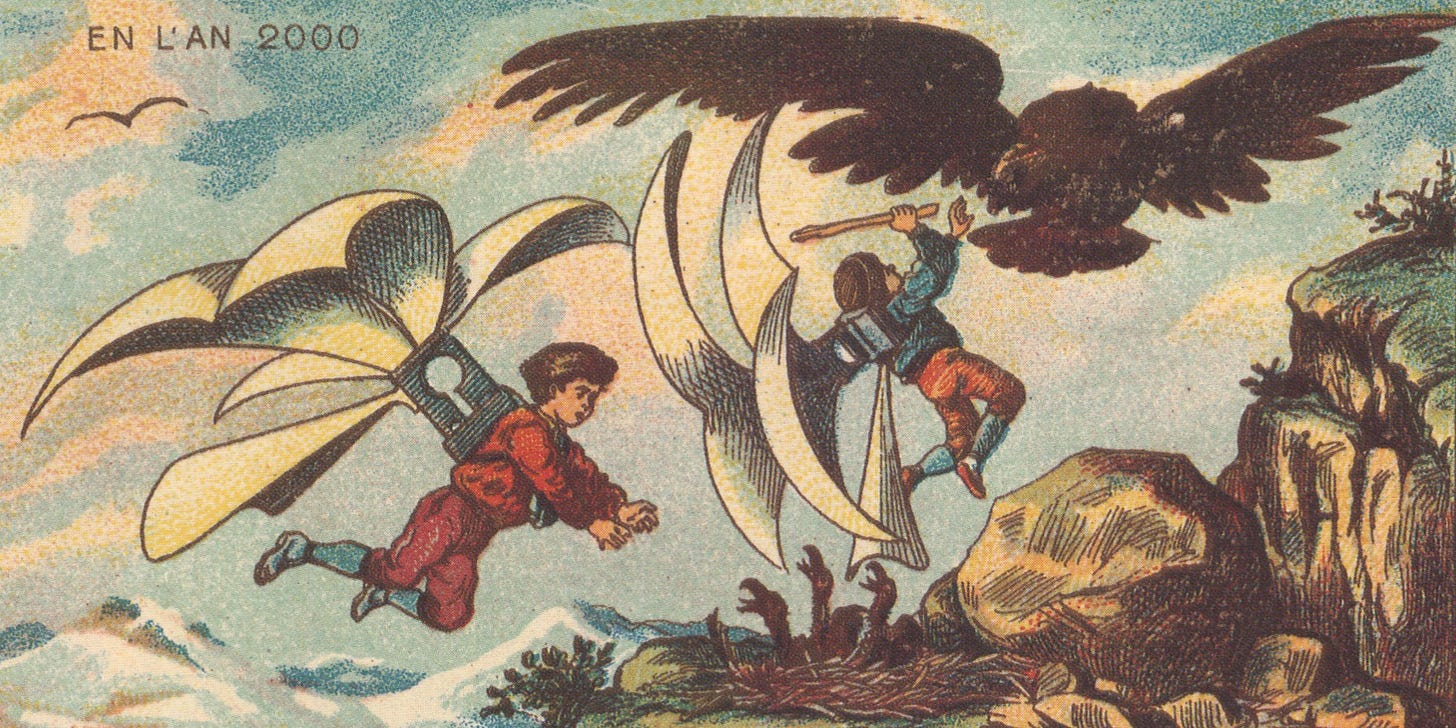 Welcome to The Trip Report, a newsletter for the builders of the emerging psychedelic ecosystem on the business, policy, and impact of psychedelics.
For new readers, welcome to this quickly growing community of psychedelic stakeholders— if you have any questions, suggestions or feedback just hit respond or shoot an email to thetripreport@protonmail.com
If you're enjoying The Trip Report, please share it with your friends, colleagues, and dealers on Linkedin, Twitter, by email, etc.
Psychedelic Leaders' 2019 Reviews and 2020 Outlooks
Reviews and predictions are common at this time of year.
The psychedelic ecosystem is receiving a lot of attention from the media, investors, and entrepreneurs looking for the next "thing"—even with the reality that there isn't a legal market in most places and the development of new drugs for FDA/EMA approval is long and arduous.
Some guy is even neglecting his family, career, and hygiene to write an industry newsletter for an industry that doesn't exist yet.
With this level of enthusiasm and (irrational?) exuberance the people building this ecosystem will be keen to hear the thoughts from industry leaders.
Here are links and highlights from a few prominent voices in the psychedelic space who made such thoughts public over the last few weeks.
Enjoy and let me know if I missed any.
---
Two Quick Things: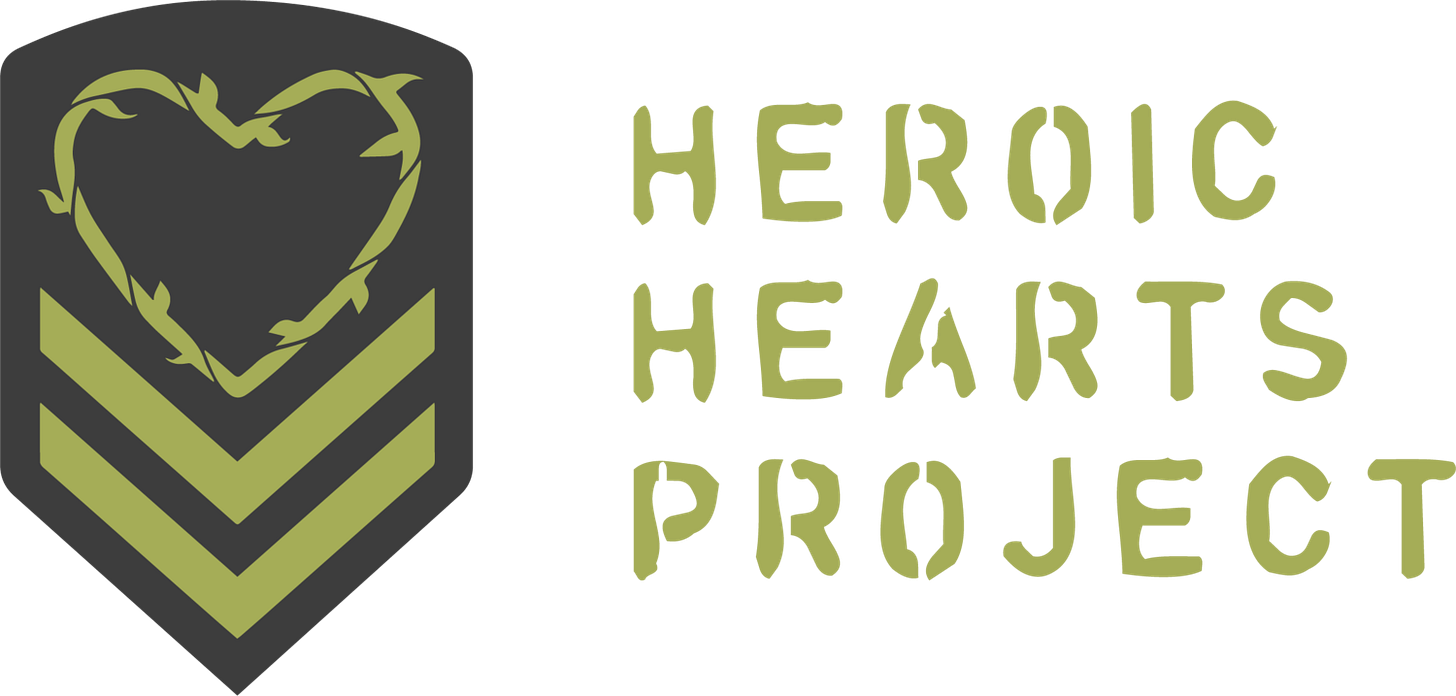 The Heroic Hearts Project, a non-profit helping military veterans gain access to ayahuasca for the treatment of service-related PTSD, is launching an Ambassador Program. This is an opportunity to spread their work, support their fundraising efforts and connect veterans with the possibility of psychedelic-assisted PTSD treatment. You can find the application to the Ambassador Program here.

The creators of The Psychedelic Renaissance - From Drug to Medicine, are offering it for free with the code "TYPM" in association with Thank You Plant Medicine (to be featured in an upcoming Trip Report dispatch).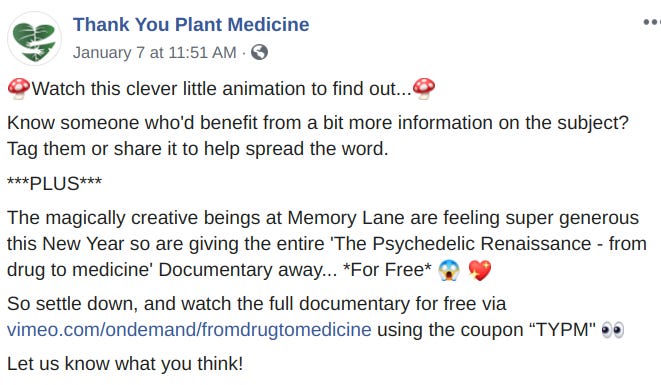 This is a beautifully and compassionately made short film that serves as a great summary of the research into Psychedelic Assisted Therapy, the patients and the people involved, including some Trip Report readers.
2019 Reviews and 2020 Outlooks from Psychedelic Leaders
The main takeaway from Rick Doblin's letter in MAPS' end of year bulletin is that we have our first indication of timing from the Phase 3 MDMA for PTSD trial—the fate of which determines the much hoped for Expanded Access Program and eventual FDA approval.
"We're approaching the most important transition in MAPS' over 33-year MDMA-assisted psychotherapy drug development effort, beginning with MAPS' founding in April 1986. This transition is anticipated to take place in April 2020, and will be catalyzed by the interim analysis of MAPS' first of two Phase 3 studies of MDMA-assisted psychotherapy for people with severe, chronic, posttraumatic stress disorder (PTSD). The interim analysis… will tell us whether or not we will need to add more subjects to our Phase 3 study in order to obtain statistically significant results. Once we know the results of the interim analysis, we'll have crucial information about the likelihood of obtaining U.S. Food and Drug Administration (FDA) approval for MDMA-assisted psychotherapy for PTSD—and if so, approximately how long it will take and how much it will cost."
Doblin also hits on the topic of the Expanded Access Program, once thought to be a sure thing:
"We're also in discussions with FDA about whether we can initiate Expanded Access for compassionate purposes in order to provide MDMA-assisted psychotherapy to treatment-resistant PTSD patients who aren't able to volunteer for our Phase 3 studies"
Founder and Executive Director of the Beckley Foundation, Amanda Fielding, wrote her year-end call to action for Evidence-Based Drug Reform in Britain's Independent in anticipation of News Year Eve—a holiday which reliably produces drug-related injuries because of contamination—making the case that the danger of drugs stems from prohibition rather than their inherent qualities.
"In short, zero tolerance drug policies are leading to record levels of deaths. To be more precise, in 2018 there were 92 unnecessary deaths across England and Wales – nearly two people per week and almost double the number of deaths recorded the year before.

A legally regulated market would go a long way towards mitigating the risks associated with MDMA use. While many still consider this view controversial, it is one that is gaining support – from parents of those whose lives have been lost or ruined by harms related to the prohibition of MDMA; academics and scientists undertaking groundbreaking research into the therapeutic potential of MDMA; and former police members now fighting for reform.

The reason for this is simple – regulation disrupts the illegal market and leads to improved controls overall. Whereas, as it stands, there is no way of controlling the quality or the use of the prohibited substance, which hands the power and the profits to the criminal market."
The Beckley Foundation laid the groundwork for legislators and policy analysts with an extensive report on the roadmap to decriminalizing MDMA just a few weeks ago.
Katya Malieksaia wrote Reflections on Christmas Eve which she published on Linkedin and in an email Newsletter.
Highlights include an update on COMPASS sponsored studies, reimbursement for psilocybin assisted therapy, and evaluation of research and commercial partners in the emerging space.
Costs and insurance reimbursement is at the front everyone's mind as psychedelic medicine inches closer to approval. Study protocols to date have been using two therapists per patient, at least during the trip portion of the study, which adds cost to the treatment.
"In addition to creating regulatory quality data on the short- and long-term safety of psilocybin, we explored the safety and feasibility of 1:1 therapeutic support with several simultaneous sessions. If further supported by regulators, this model could expedite research and eventually improve patient access to innovative treatments."
Furthermore, the unconventional nature makes it particularly challenging for insurance agencies to actuarialize (is that a word?) this form of treatment—but hopefully, we'll see an indication soon.
"Just last month we had a thoughtful and constructive four hour consultation with the European Medicines Agency (EMA) and European payors (EUnetHTA – European Network for Health Technology Assessment) on the evidence required for psilocybin therapy to be reimbursed and integrated into national health systems, so all patients in need can access it regardless of their ability to pay."
They also appear to be looking for partnerships in the space.
"Our business development team has been hard at work, looking at investment and partnership opportunities outside of our current programmes, with a focus on ideas that offer transformative treatments and new models of patient care. "
In the first newsletter of the year, #InsightNetwork, CEO Florian Brand reflected on the success they had in 2019 and waxed bullishness on the future, leaving readers wanting more on yet-to-be-announced deals, ending with:
"Finally, we are thrilled to have managed to close three more "last minute" deals between Christmas and New Year's Eve. We are now working to onboard three compounds and will share details over the next few weeks. All these compounds have the potential to significantly improve the situation for patients without effective treatment options."
ATAI's accomplishments for the year include:
Nikita Alexandrov - ThinkMyco
Alexandrov's Reddit round-up is chock full of insight for the psychedelic enthusiast wanting to understand the emerging market and players.
His 2020 Psychedelic Industry Insights Report - ThinkMyco is the kind of analysis I wish I could supply. Instead, I rely on dumb dad jokes.
Alexandrov is the CTO of ThinkMyco, a Vancouver based "Vertically Integrated Mycology Technology Company"— a company I had not heard of before his knowledge bomb.
"2019 was a pivotal year in the psychedelic industry with US decriminalization actions, two companies receiving FDA breakthrough status for psilocybin, funding of the $16M Johns Hopkins Psychedelic Research Center, The US Defence Department starting their rumored $20M+ Focused Pharma psychedelic science program and the movement of top universities into research and clinical trials.  With the explosion of the more than $100M dollars worth of investable psychedelic opportunities in Q3 2019, the collapse of high quality cannabis investments, one of the best decembers on record and a potential $1B scale psychedelic IPO - 2020 will be the year of psychedelic investment."
David Nizkard of Hawaii-based Orthogonal Thinker/E.I. Ventures/PsillyLife/Alkaloid Accelerator took to Linkedin to express his enthusiasm for the future and grand ambitions for his company and ventures they support. If you are looking to launch a psychedelic based venture, David is the person to speak with.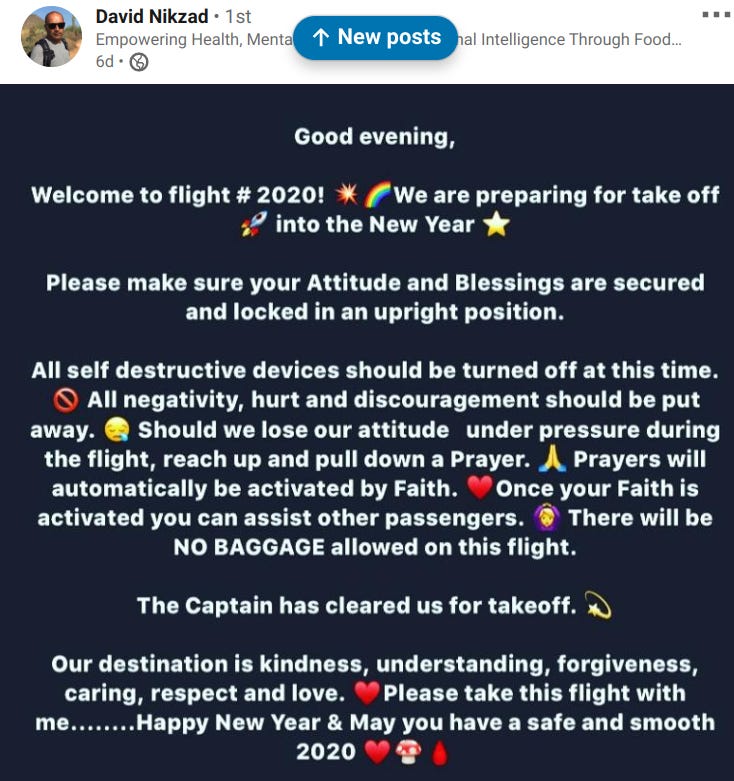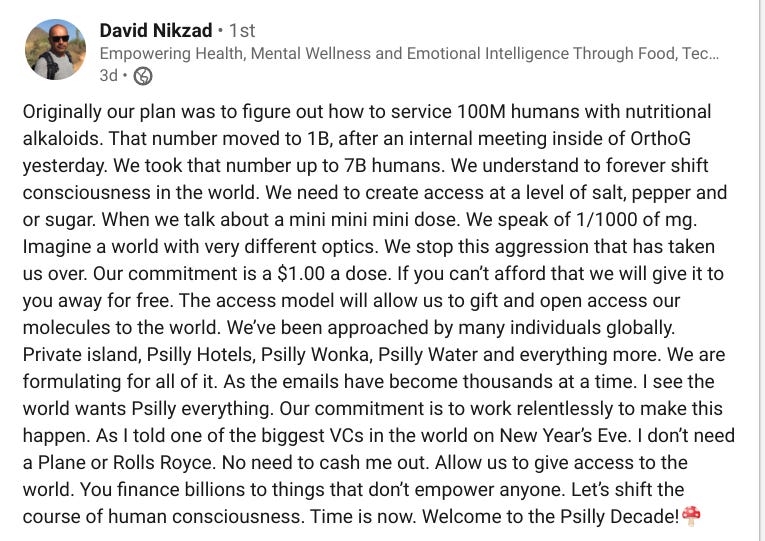 We're in the midst of a revolution in consciousness, medicine, and health.
The transition, already underway, from underground, illegal and sacred to commercialized, legal and profane is fascinating, scary, and hopeful.
If you're as fascinated by this transition as we are, The Trip Report has you covered.
You can sign up here to have future dispatches sent directly to your inbox:
Comments, questions, tips? Send me a note - thetripreport@protonmail.com
Written and toiled over by Zachary Haigney