Discover more from The Trip Report by Beckley Waves
on the business, policy and science of psychedelics
Over 5,000 subscribers
The Trip Report Interview with Unlimited Sciences Co-Founder Del Jolly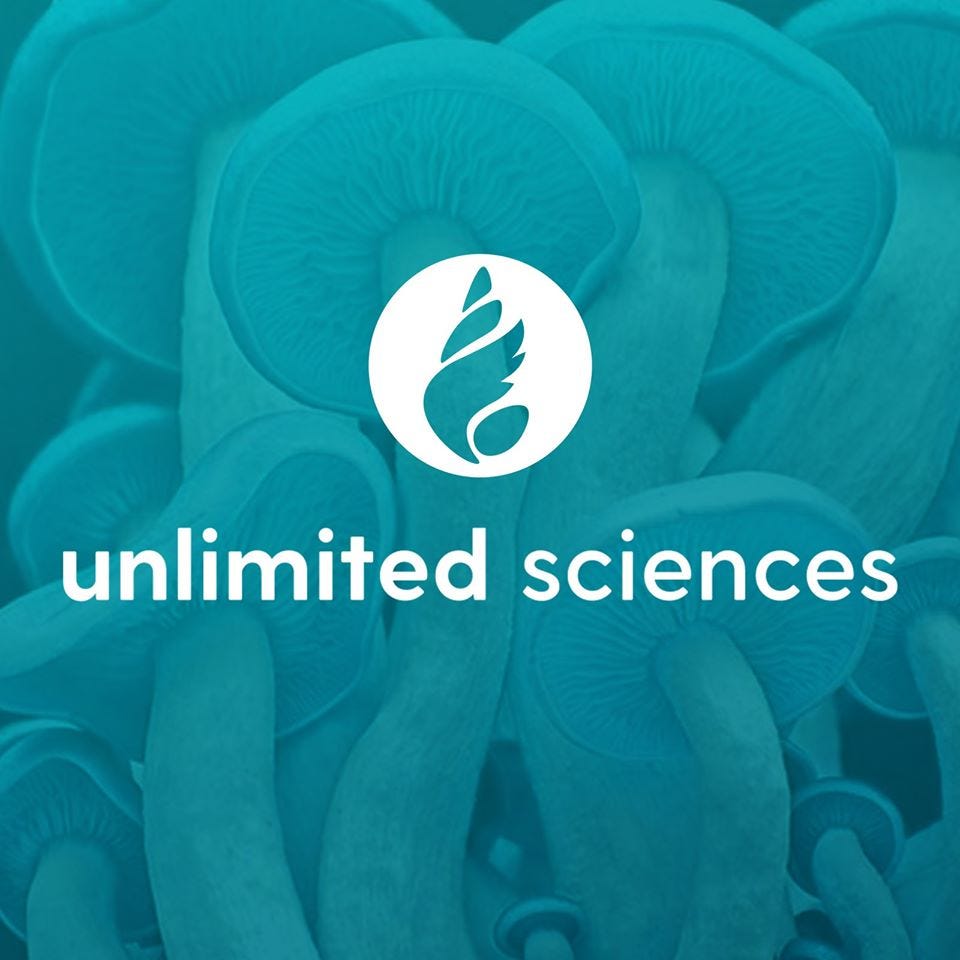 Unlimited Sciences
If you are a regular Joe Rogan listener, you will have heard Rashad Evans, UFC light heavyweight champion talk psychedelics and spiritual development last week.
Evans discussed the importance of psychedelic experiences after his retirement from professional fighting, how they helped him face his own demons, and how he plans to help others with psychedelics.
You will have also heard Evans mention his affiliation with Unlimited Sciences and his friend Del Jolly.
Del is a co-founder of Unlimited Sciences and was generous enough to answer a few questions about Unlimited Sciences, how they got started, and their collaboration with Johns Hopkins to conduct an observational study of psilocybin use in the real world.
The Trip Report: Can you give an overview of the project/research you are launching over the next few months? 

Unlimited Sciences: Unlimited Sciences in collaboration with Johns Hopkins University School of Medicine just received IRB approval on a large scale prospective observational psilocybin study. The goal of this study is to learn more about the positive and/or negative outcomes of using psilocybin in naturalistic settings (meaning outside a research laboratory), and any potential factors that could affect those outcomes. This study is specific to the use of psilocybin. We intend to begin enrolling in mid-March. Unlimited Sciences and Johns Hopkins do not condone or encourage the use of psilocybin mushrooms. This is for individuals already planning to take psilocybin mushrooms in the next six months. This is not a dose administration study, please do not inquire about obtaining mushrooms we will not be able to help you. 

TR: What is the Unlimited Sciences origin story? How did this idea and group of people come together? Who are some of your collaborators?

US: Unlimited Sciences is a fiscal sponsor of Realm of Caring. The RoC was started by our co-founder Heather Jackson who's son was diagnosed with Doose syndrome, a rare and catastrophic form of childhood epilepsy. Heather learned of cannabis to control seizures by their hospice counselor and quickly realized there wasn't reputable "real world" data being collected. Why did she need to start at square one with her son when cannabis had been legalized for years? 

After RoC's families were featured on CNN with Dr. Sanjay Gupta, a large group of medical refugees began moving to Colorado to treat their children in 2013. A movement was birthed. Soon a couple of families became 200, then 2000, then 20,000 today RoC serves over 60,000 individuals and families trying to understand how to use cannabis for various conditions. Realm of Caring also serves over 1500 medical professionals.  Heather teamed with Johns Hopkins in 2016 to start what is now the largest repository of longitudinal cannabis use in the natural environment. Heather is a published author, speaker, and researcher and is interested to bring the model of community and data to the entheogenic space. 

Del Jolly comes from a position leading business development for Charlotte's Web Hemp oil, the world's largest CBD oil producer and was the outreach director to the Decriminalize Denver campaign, which passed a historic initiative to decriminalize psilocybin in the city of Denver. Del has a passion for psychedelics and storytelling. 

Our third co-founder, David Champion recently served as a campaign lead in the Decriminalize Denver Initiative, helping Denver become the first US city to reform psilocybin policy. Prior, he was a Co-founder and CPO at Baker Technologies. David has a decade of experience in behavioral design and data strategy.
TR: Will the data you capture be used in future research design/public policy/products or services?

US: The data we collect can be used in various ways. What Roland Griffiths, Ph.D., Professor in the Departments of Psychiatry and Neurosciences at the Johns Hopkins University School of Medicine, and founding Director of the Johns Hopkins Center on Psychedelic and Consciousness Research seemed most interested in was the idea of casting a wide net to collect data on how folks are using psilocybin. Then finding signals within that data to help inform clinical studies. The amount of time and money that goes into designing clinical studies is immense and this data could help direct those efforts. 

We also know that we can not do this without the global community and so we intend to provide information on best practices and dangers. We want the community to be as informed as possible and help to mitigate risk.  We will learn a lot about the effectiveness of this type of data collection that may be applied to future studies.

TR: What will success look like for Unlimited Sciences?

US: Success can be measured in so many ways. With collaboration being a value of ours, being able to launch this study with JHU is already a success. Community is another value of ours so collecting the community's experience through data is another win. Discovering correlations and outcomes that will help to Identify best practices that provide safe and meaningful outcomes is the underlying reason Unlimited Sciences has initiated and is committing to fund this study. People have been using psilocybin for thousands of years and will continue to do so whether they are legal or not. There is a natural history experiment underway. Collecting that data will be a huge success for US.

TR: How can Trip Report readers support Unlimited Sciences or get involved? 

Signing up for our newsletter to learn when the study will be live and stay connected to other happenings is a great start. This is a three-year study and we expect to grow. A recurring tax-deductible contribution is one of the most sustainable ways to ensure the work can continue and that we will be able to provide deeper information to the global community. Lastly, follow us on all of our social media channels to show your support.