Discover more from The Trip Report by Beckley Waves
on the business, policy and science of psychedelics
Over 5,000 subscribers
Update from the Oregon Trail; Beckley to develop 5-MeO-DMT; COMPASS restarts Phase II; and more
On the docket:
Oregon expects IP 34 to be on November's Ballot

Beckley Psytech to develop 5-MeO-DMT

COMPASS Restarts Clinical Trials
The Oregon Trail to Medical Psilocybin
Organizers of Oregon's Psilocybin Services Initiative, or IP-34, the ballot initiative that would establish a legalized framework for psilocybin assisted therapy in Oregon, believe that they have gathered enough signatures to qualify for November's ballot.
"Petitioners submitted their first batch of signatures May 22. The state confirmed that 106,908 of those signatures were valid - an 80.2% approval rate.

On Monday, the campaign submitted a final installment of 31,209 signatures.

"Only 5,112 (16.4%) of those must be deemed valid for the initiative to qualify for the November ballot," organizers said."
Assuming that they have delivered enough valid signatures and Oregonians will be voting on IP-34 in November, the real work begins to educate the public on the details and the rationale of psychedelic-assisted therapy.
IP-34 puts forth a nuanced framework for psilocybin assisted therapy, not a cannabis-style retail model.
Back in March, we looked at the details of the PSI in a Trip Report Pro dispatch:
"I read through the ballot initiative this week, here are the basics.

The PSI proposes a legal framework for the manufacturing/cultivation, sale, and administration of psilocybin services (therapy, guided trips) in designated "psilocybin services centers."

Retail sales are not part of this initiative

SECTION 57… A client may purchase, possess, and consume a psilocybin product:

- (1) Only at a psilocybin service center; and

- (2) Only under the supervision of a psilocybin service facilitator. 

This is not a decriminalization or de-escalation measure. Personal possession, cultivation, or distribution are not subject to this initiative and would continue to be illegal at the state and federal level. (IP 44 is a simultaneous campaign in Oregon that seeks to decriminalize all drugs in the state. They are only 8,000 signatures shy of their goal.)"
I would love to see polling data the seeks to understand how Oregon voters feel about
The absence of a retail model

The absence of decriminalization
How does the absence of these aspects help or hurt PSI from going into law?
A separate ballot initiative in Oregon, The Drug Addiction Treatment and Recovery Act, is also close to the finish line, but organizers are less confident they will get there.
Beckley forms Commercial Arm to develop 5-MeO-DMT
Yesterday two British outlets reported a Beckley Foundation spinoff, Beckley Psytech, has raised the first round of funding and their first development project, 5-MeO-DMT:
From UK Tech News:
"Beckley Psytech will use the Series A funding to advance its lead programme exploring the use of synthetic 5-MeO-DMT, a unique psychedelic agent with a short duration of action, in the treatment of neuropsychiatric diseases."
"Beckley Psytech is developing a drug pipeline of psychedelic medicines with significant commercial potential to address this unmet clinical need. The company is borne out of a strategic partnership with the Beckley Foundation, a renowned non-profit NGO with a 20 year track record of advancing scientific research into psychedelic medicine."
From Sifted:
"On top of that we're working with very respected scientists from some of the most prestigious academic institutions in the world, like Oxford University, Johns Hopkins and Imperial College London."
As far as I am aware, this is the Beckley Foundation's second commercial spinoff.
The first, a joint venture with Canopy Growth to develop cannabis-based therapies and IP lead to a successful exit (for Beckley) and much of that team is involved with the Beckley Psytech project, including CEO Cosmo Feilding-Mellon, Chairman Marc Wayne, and Cheif Scientific Officer Steve Wooding.
My first impression: Thank God—a trusted name going into drug development. It is like drinking from a fire hose trying to decipher the signal from noise from the entrants coming into psychedelic space, and Beckley has a long track record of funding science and drug policy measures.
We'll be keen to watch how Beckley Psytech handles questions of Intellectual Property, and public benefit since the Beckley Foundation has a long history of philanthropic support for psychedelic science and drug policy reform and, at least on the surface, the mixing of advocacy and commerce presents challenges.
Beckley is the third OG psychedelic science foundation turned pharmaceutical developer. MAPS has spun off the MAPS PBC as the vehicle to bring MDMA to market, and the formation of Usona was manifested with heavy lifting from the Heffter Institute.
MAPS has been clear about their position with regards to patents, and tunneling proceeds back into development and therapist training. Usona, operating as a non-profit, is an alternative to a conventional drug development company and therefore does not have obligations to recoup investor's outlay.
How will the Beckley-Pystech team navigate this?
The website includes:
"Our R&D platform can be divided into three distinct though interrelated categories:

"1st Generation" Psychedelic Medicine: Progressing innovative formulations and applications of well-characterised psychedelic agents such as psilocybin and other compounds

"2nd Generation" Psychedelic Medicine: Developing known but under-researched psychedelic agents with potential clinical and patient access advantages over the first wave of psychedelic medicines

"3rd Generation" Psychedelic Medicine: Designing New Chemical Entities (NCEs) that improve upon existing psychedelics by providing better clinical and cost-efficacy outcomes"
I would assume they consider 5-MeO-DMT to be in the second category based on this from the Sifted article:
"Our lead compound, 5-MeO-DMT, has been used widely in recreational and ceremonial settings, and there is considerable anecdotal and observational evidence that the drug is non-addictive and can be effective at treating debilitating diseases such as depression and addiction. The risk/benefit profile appears positive. Our plan now is to prove this in placebo-controlled clinical trials so that health authorities can approve Beckley Psytech's pharmaceutical formulation of 5-MeO-DMT as a licensed medicine for patients in need."
What else are they planning to develop?
I have a hunch: LSD.
And here is a bit of swashbuckling speculation: Tim Ferriss is involved.
Back in April, as we covered in a Pro dispatch he indicated in a conversation with Kara Swisher that he was funding LSD research overseas:
"Ferriss: "LSD has more political baggage so it is not as readily researched, although I will be funding some research related to that overseas…"

He disclosed that he would be funding LSD related research overseas but did not indicate which university, which scientists or what indication his funding would support. MindMed's partnership with Matthias Liechti's lab makes this an unlikely destination."
Considering the acknowledgment of first-generation psychedelic development and the assumption that 5-MeO-DMT is a "2nd generation" per the above criteria I surmise that the first generation candidate is LSD and the Beckley Psytech project allows Ferriss to involve himself commercially while at the same time supporting a group that has a track record of philanthropy and "doing it the right way."
I suppose we'll find out.
COMPASS Restarts Phase II Trials
In a public letter from co-founder Ekaterina Malievskaia:
"In March, we shared with you our decision to pause the recruitment of new participants into our ongoing clinical trial due to COVID-19. Since then, we have been helping participants already enrolled in our TRD study to complete the trial, using remote means where possible. We have also been planning how we restart our study as soon as it is right and safe to do so; study teams have been busy pre-screening, identifying patients who might be eligible. Eight sites (in the Czech Republic, Denmark, the Netherlands and the US) have now been approved to re-open, and we're hopeful that more will join them soon."
A few weeks ago, ATAI hosted a fireside chat in which they share the below timeline for their portfolio companies. Noting that COMPASS expects to have Phase II completed in Q1 of 2021.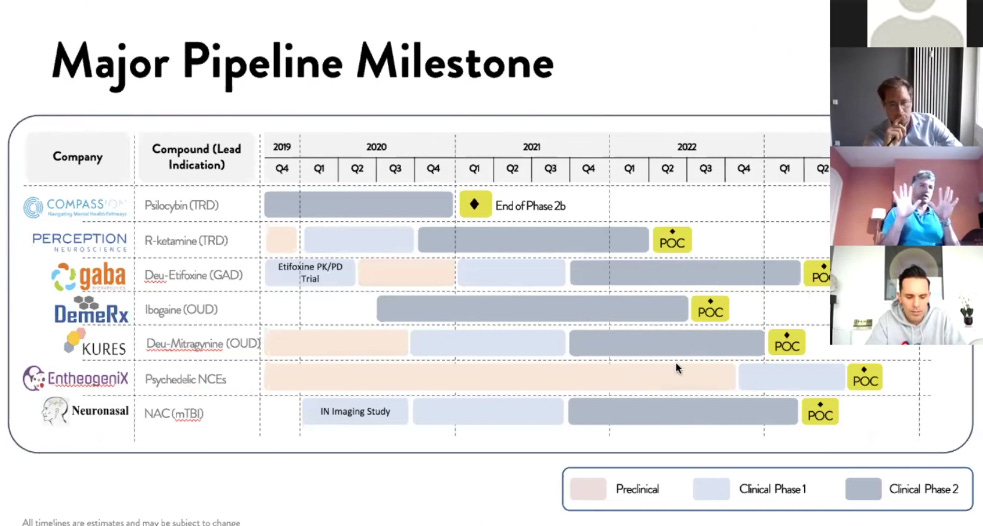 It is tough to keep track of how COVID is affecting the rest of the world, but here in America, it seems that we could be headed for another round of lockdowns. Perhaps it would be wise to look to places like New Zealand to run clinical trials.
COMPASS also announced support for the Grady Trauma Project at Emory University with the research aim of understanding "the mental health care needs and attitudes towards psychedelic therapy in marginalized and underprivileged communities, with the goal of developing culturally-informed psilocybin therapy for depression and other mental conditions."
Medical Psychedelics Working Group
The Business Trip Podcast
Friends of The Trip Report Greg Kubin and Matias Serebrinsky have launched Business Trip, a podcast about psychedelic entrepreneurship.
Episode 1 is a conversation with Dylan Beynon of MindBloom—check it out!
Other News, Headlines, and Announcements
What about the Mushrush tho?
An entertaining thread— one highlight below.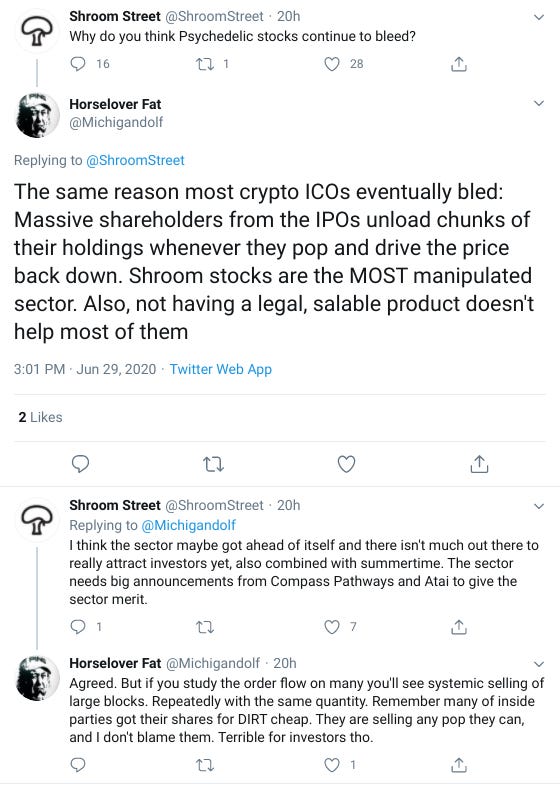 Alright, thank you for reading and see you in two weeks!
Zach