Discover more from The Trip Report by Beckley Waves
on the business, policy and science of psychedelics
Over 5,000 subscribers
We're all going to die: TsuNumi Warning! & Champignon is an actual thing?
Numi Going Public
Numinus Wellness goes public today. Congratulations, now the real work begins.
The lads over at r/shroomstocks are divided on how Numi will trade. There is concern about the deal structure, debt, and the fact that the CEO's wife is awarded 5 Million shares but has no role in operations.
I'm not concerned with how it trades, but I am interested in what it will look like in two, five, and ten years' time.
In a Trip Report Pro dispatch back in April, I put forth the idea that Numinus represents a "Picks and Shovels" approach to positioning itself in the emerging psychedelic space.
The Gold Rush of the 1840s and 1850s saw people from around the world 'rushing' to California to establish their fortune by prospecting for gold. When they arrived, they needed to buy the required tools: Picks and Shovels.

While it is called the Gold Rush, it could be thought of as the "pick and shovel insight." Prospecting is highly asymmetric; the chances of making a fortune are slim, while the chances of striking out are high. But if you wanted to give yourself a chance, you had to buy a pick and a shovel.

So, what are the picks and shovels of the emerging psychedelic ecosystem?

Here are a few candidates:

Clinical Trials

Drug discovery Infrastructure

Laboratory services

Clinics

Cultivation/Production
I'll add Therapist Training the above list and clarify that by "striking gold" in this context I am referring to creating a "blockbuster" pharmaceutical.
Continued from above:
"Numinus is eschewing conventional vertical integration, at least for now, and focusing on the picks and shovels as they see it... clinics and labs are two requirements for the forthcoming wave of psychedelics. Labs to test and process raw materials and clinics to deliver the finished product."
How does this assessment compare to Numinus' Narrative Description of the Business included in the Filing Statement?
The Stated Business Objectives portion of the filing statement includes
Analytical Testing

Extraction

Clinical Infrastructure
But it also includes
Research and development facility

Psychedelic Therapy Protocol Development
"The Resulting Issuer intends to develop a framework for psychedelic therapies in a clinical test environment."
And:
"Using Salvation's existing Dealer's License, Numinus intends to build a facility specifically for psychedelic research and development.  The facility will be instrumental in assessing the protocols developed for treatment and will include lab space and equipment, research space, protocol testing functionality, and be able to house the R&D team."
If this is a dedicated Psychedelic Clinical Research office it is a win. Not necessarily for traders but for the businesses developing psychedelic drugs.
Efficient boutique clinical research operations can be good business. I used to work for one. Out of college, I was a study coordinator for Expanded Access Programs and Phase I/II trials for HIV and Hep C drugs.
Compared to academic institutions and larger private multi-site, multi-indication clinical research services we were way more efficient. We didn't run a study that we weren't the highest enrolling site, by far. I am saying this to brag, I loved that time in my career, but I am also saying that a boutique, independent clinical research site can be a good business that accelerates the science.
I hope Numinus, or someone else, can serve this function.
They also appear to have listened to some concerns of the psychedelic community as they have included partnerships with two addiction organizations, Together We Can and BC Centre on Substance Abuse.
To close, if Numinus can serve psychedelic drug developers with efficient enrollment and subject housing (for COVID concerns and to recruit from a larger geographical area) they will be providing the psychedelic space with a much-needed resource.
CEO Payton Nyquvest will be chatting with Paul Austin tonight via webcast.
Psychedelics: A Tool for the Dying
"In the long run we're all dead"

—John Maynard Keynes
Your Brain is a sense-making organ. The first question that our nervous system asks to make sense of any experience or person is "Will this kill me?"
With people, the next question is "Am I safe? Is this a friend or foe?" It happens below conscious perception and then emotional physiology lets us know what our nervous system has "decided."
In modern discourse, politics have become the primary way we answer the question: "Is this friend or foe?"
It feels like we're driving off a cultural cliff, the pandemic is breaking ossified norms (working together at offices) and straining geopolitical relationships (China) and we hate each other.
But, here's the good news: We're all going to die!
Literally every one of us.
A hope for psychedelics is the capacity to change our relationship with death, often fear and denial. Reframing death reframes our nervous system's evaluation of people offering the chance for people of different beliefs and value systems to connect with each other.
Heck, you could even die after reading the next sentence because your head might actually explode:
Champignon Sponsors Non-profit Coalition, TheraPsil – Medical Psilocybin Access Project for Palliative Cancer Patients and Health Professionals
Wait, Champignon is a real company?
The recent purchase of a seemingly real ketamine clinic in Southern California and a partnership of the kind The Trip Report advocated for just last week indicates that there may be some long term thinking taking place at Champignon headquarters.
From Friday's Pro dispatch:
Often pharmaceutical companies have programs for the uninsured and under-insured called Patient Assistance Programs. They don't cover everyone but they are a way to create access for some.

How the hell is this supposed to work with Psychedelic Medicine???

MDMA for PTSD requires two therapists for three, eight-hour sessions plus preliminary and integrative work.

Psychedelic Patient Assistance Programs will require some creativity.

ATAI, Field Trip, COMPASS, MAPS, Usona, etc. should identify organizations that work with underserved populations and collaborate on creating opportunities to receive psychedelic therapy for the poor and uninsured.

For example, Inside Circle is a group that facilitates emotional literacy and resiliency among incarcerated and formerly incarcerated people. The documentary The Work depicts Inside Circle's work powerfully AF, highly recommended.

If collaboration starts now, can psychedelic companies work with mission-driven groups to facilitate access to psychedelic medicine for the population they serve in a cost-effective way?"
If this is legit, it is great news because Therapsil is doing God's work of helping people as they exit this life. They are working to make psilocybin a legal tool for the dying. We covered them in a Special Dispatch: Psychedelic Non-Profits Worth Supporting.
At the time of writing Therapsil hasn't commented on social media or in their newsletter so we'll see if this is legit or a mere pumping exercise.
Other News and Events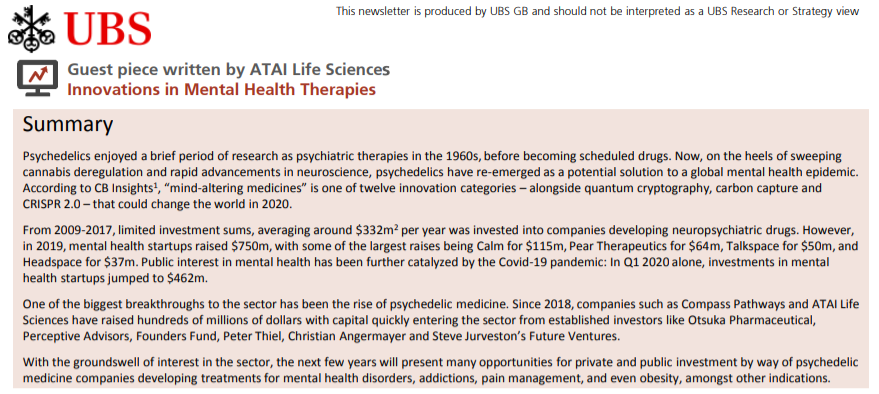 "The PsyCOVIDelic Survey is a project run by the Centre for Psychedelic Research at Imperial College London. With this survey, we aim to work together with our participants to understand the interaction between psychedelic experiences and current global events — more specifically, the COVID-19 pandemic."
Making Sense Podcast
Sam Harris and Jonathan Haidt talk Psychedelics on the Making Sense Podcast. It will open the door for many more professionals to come clean with psychedelic use and how it has informed their work.
And here it is, your moment of Zen:
That's all folks, thanks for reading and see you next time.
Zach